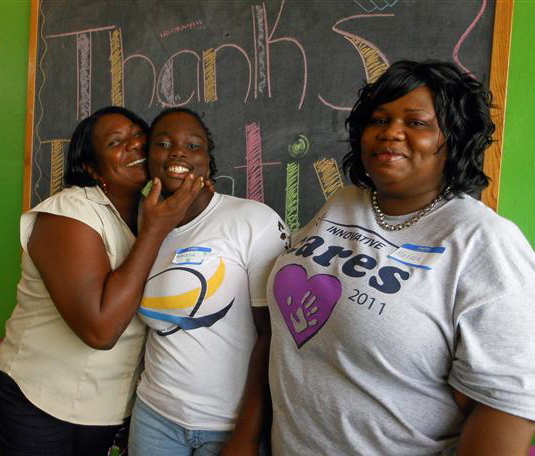 With a welcoming smile, Denelle Baptiste beckons a visitor to the newly refurbished Oswald Harris Court Community Center, home of the Boys and Girls Club of the Virgin Islands.
Baptiste is spending her second summer interning in the Innovative Leadership Development Internship program, and this summer's program has her on her toes. With the renovation completed, the interns are now mentoring the school students, advising, leading them in social and academic activities.
The 56 summer students are involved up to their young ears Wednesday in a "Teen Development and Enrichment Day" run by the communications company. The large, airy facility, containing everything from a computer lab to a kitchen and a pool table, fairly glistens with green, orange and yellow paint recently applied by the interns and other employees in an Innovative Cares Day late last month.
Baptiste, a bright, energetic soon to be senior at Columbia University in New York, exemplifies the spirit of the internship program. She is managing the teen day, along with eight other interns.
Baptiste went to high school on St. Croix and to UVI on St. Thomas. She is majoring in computer engineering at Columbia
She talks about the transformation of the center as she leads the way to a newly painted, spiffy looking basketball court. Though it seems hard to believe, Baptiste says the renovation took only about eight hours.
"There were about 60 employees," she says, "and we worked in crews. It was very organized. And it's great for the morale of the kids. It's an amazing change."
Baptiste has a point. The court sports bright lavender, orange and green paint. Running to grab a ball left on the court, she points out the hands painted on the back behind the bleachers, helping hands.
She indicates the large neatly trimmed lawn adjacent to the court. "This was filled with trash, bottles, cans," she says with a sweep of the arm. "And look at it now."
On the way back, she points out another project. "This is the new vegetable garden," she says pointing to a small area on the other side of the building. "It's just a start for now," she says, "but the kids will tend it. It will grow."
Indeed, the work is impressive. Aside from the sparkling new paint job, an Innovative partner, 3D Construction, tiled the kitchen floor and counters, while company IT crew tested all equipment in the computer lab, and hauled off the e-waste.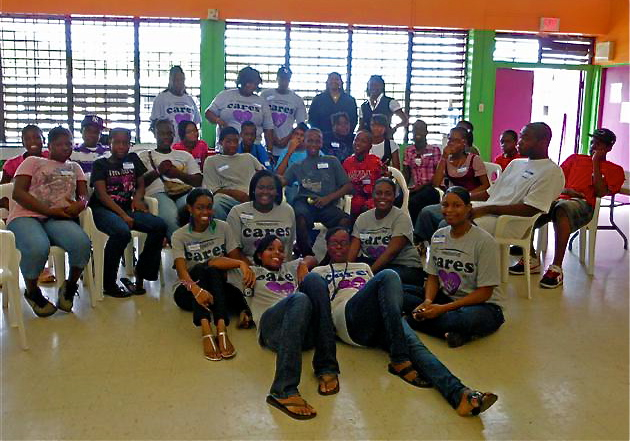 The center is alive with activity – kids playing charades, hormones flying, one minute, in the next, all settled down for a talk on self esteem.
"We keep them occupied," says Malissa Eustache, Innovative Human Services manager and intern coordinator. Eustache, who looks only slightly older than the interns, has been at Innovative for 12 years, and hold a bachelor's degree in business administration from UVI.
Intern Shanicqua Miller, an ambitious young woman, will put her mentoring experience to good use.
"I'm a psychology major at Paine College in Georgia," she says, "in my second year. I plan to open my own office when I come home." Or, she thinks a minute, "maybe I'll work at Innovative in human services first."
Jackie Brown, Boys and Girls Club director, is always a busy person, and Wednesday is a very busy day. However, she is unfazed, happy to talk about her favorite subject, the kids. While keeping a practiced eye on all the activity, she pulls back her chair. "We have 56 kids this summer, up from last year, we had 30."
How to account for the increase?
She flashes a smile. "It's mostly word of mouth," she says. "We just have one employee, James Simon, besides me, but we get help from all the community."
The club, which traditionally offers an after-school program, has been in its Harris Court location since closing its doors in its former Savan location in December 2009. It partnered with V.I. Housing Authorities for its new home at Harris Court Community, which is a well-suited site with ample classroom space, recreational areas, a computer lab, restrooms, an administrative office and a performance stage.
Brown lauds the efforts of Innovative.
"They are doing so much," she says. "During the school year, Antilles students come to mentor every Tuesday. Then the Hotel Association comes to mentor and teach, Frenchman's Reef employees, Sugar Bay and Bolongo Bay."
The most improbable of the instructors, it turns out, is the club's 13-year-old drama teacher, Natisha Hodge.
"That's right," Brown says. "And she is doing an incredible job."
Hodge, with a poise belying her years, takes her role in stride.
"You're never to young to do anything you think you can do," she says. Without missing a beat, the soon to be Charlotte Amalie High School freshman, continues, "I looked around and I found talent. I take the kids and showcase them, dancing, singing, acting."
And the youngster is a diplomat.
"We debate which is the best act to do," Hodge says.
Brown says Innovative is working on a plan to keep an eye on the program throughout the year, while the interns are mostly away at school.