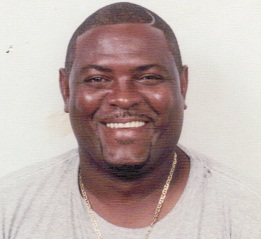 Ralston I. Welsh Sr., also known as "Rolling Stone," of Estate Profit Hill died on July 28, at Gov. Juan F. Luis Hospital. He was 44 years old.
He is survived by his companion, Jennifer Y. Worrell; stepfather, Ivan Daniel; daughters: Carolyn Welsh and Niedha Welsh; son, Ralston I. Welsh Jr.; sisters: Lurline Bell and Jacqueline Chapman; brother: Eric Joseph; nieces: Amaya Joseph and Dellisha Joseph; nephews: Brandon Joseph, Daniel Bell and David Bell; aunts: Estelle Dore James and family, Eunice Welsh and family, Marjorie Christie and family, and Lorettta Williams and family; special friends: Mr. Small and family, Ceaser Noorhassan, Mrs. Woode and family, Urceline Charles and family, Mr. and Mrs. Greenaway, Angeline Santana and family, Ms. Fredericks, the Chicken Shack family, James Worrell and family, Mr. Brady and family, Maria Acosta and family, and Gweneth Durand.
He is also survived by cousins and other relatives: Cyril Dore Jr. and family, Clarissa Dore and family, Lorraine Dore and family, Virginia Dore and family, Andrew Dore and family, Carmen and Clarence Phillip and family; godchildren: Randy Narensingh, Tasheda Martial, Amwah Martial and Kelvin Matthias. Special thanks to Dr. Robert Thompson, the Gov. Juan F. Luis Hospital ICU nurses, Nurse Brad and Nurse James, Rev. Kerry C. Neuhardt and the James Memorial Funeral Home; as well as other relatives and friends too numerous to mention.
There will be a viewing held at 10 a.m. followed by a funeral service at 11 a.m. on Tuesday, Aug. 9, at St. John's Episcopal Church. Interment will be at Kingshill Cemetery.
Please wear festive colors as he was a joyful person.
All arrangements are by James Memorial Funeral Home Inc.