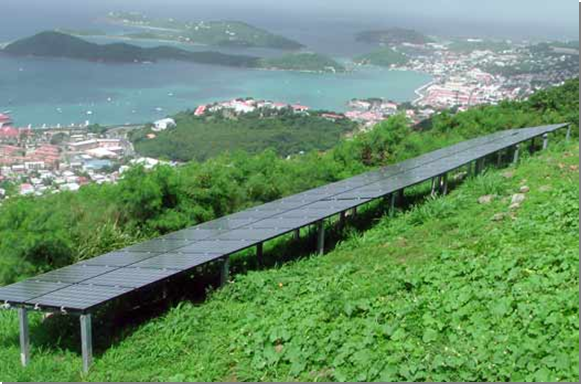 Virgin Islanders Urged to Get Solar Water Heaters
The Virgin Islands Energy Office is urging residents to take advantage of its Sun Power Loan program to purchase a solar water heater and substantially reduce their electric bill. The Sun Power program allows residents to purchase and install a solar water heater with no upfront costs. Rebates up to $2,500, along with loans up to $3,500, are available to cover the costs.
Energy Office Director Karl Knight says, "There is money available for the loans and rebates now, but it won't be there forever." He adds that the Energy Office has conducted a successful appliance rebate program and a successful rebate program for fuel efficient vehicles, paying out more than $1.2 million dollars in subsidies to 2462 residents and small businesses, but federal money is no longer available for those two programs.
The Sun Power program is funded under the American Recovery and Reinvestment Act of 2009 and is administered in a partnership between, the Water and Power Authority, the Economic Development Authority, and the Energy Office.
When Governor John P. deJongh Jr. announced the program in October 2009, he said, $4.5 million has been set aside for rebates and loans
Almost 600 residents have already been approved for the program. It is estimated that another 200 residents will be able to go through the program the way it is before the program is revised or shutdown.
The no-money-down loans are financed through the Economic Development Authority at a 1 percent fixed interest rate over five years and are repaid through borrowers' WAPA bills.
Information and applications can be found at
www.vienergy.org

or call 713-8436 on St. Croix and 714-8436 on St. Thomas.
Energy Upgrades at Virgin Islands Schools to Save Millions
Department of Education Commissioner LaVerne Terry joined Energy Director Karl Knight and Energy Systems Group Corporate Director of Business Development Doug Tischbein at the Charlotte Amalie High School recently to update the public on the energy savings technology implemented at 11 Virgin Islands public schools.
Earlier this year, Gov. John P. de Jongh, Jr., announced that Energy Systems Group (ESG), an energy services and performance contracting company, was selected to develop energy efficiency and building improvements project at four schools on St. Croix and seven on St. Thomas. The first phase of the project kicked off in March and is set to be completed in September 2011.
The savings captured from reduced consumption are guaranteed to save the government more than $11 million over a 10-year term and will be used to offset operational costs for the Department of Education and for upgrades in other public schools and agencies. The project is funded by $6.9 million from the American Recovery and Reinvestment Act administer through the Virgin Islands Energy Office.
"We are excited about this project because of the tremendous impact on our facilities and ultimately in the reduction of our utility bills," said Commissioner Terry. She added, "We are going to use this as a teaching opportunity. This is an opportunity to change children's behavior as it relates to conserving energy."
Director Knight said, "We have established very aggressive conservation goals for the Government of the Virgin Islands and this project demonstrates what is possible what the potential return on our investment can be."
"By taking advantage of stimulus funding, we will implement clean technologies and energy efficiency measures that will guide us into the next decade and beyond," said Gov. John deJongh in an earlier press release.
The project, designed to make school more environmentally friendly and energy efficient with the installation of energy-efficient lighting and water-conservation measures, is one of several aimed at helping the government meet the goal set by deJongh to reduce the territory's fossil fuel dependence by 60 percent by 2025.
"Through this innovative partnership with the government of the U.S. Virgin Islands, ESG will provide energy conservation solutions to areas in the Caribbean where the cost of utilities is among the highest in the United States," said Tischbein.
"ESG commends the Virgin Islands government, Department of Education and the Virgin Islands Energy Office for their commitment to sustainability and energy efficiency. The project we are developing will provide numerous environmental and economic benefits for the territory," said Greg Collins, ESG president.
Energy Solutions Offered at St. Croix Conference
V
.I. Energy Office Director Karl Knight spoke at the Optimize Energy Solutions
conference sponsored by Quality Electric Supply on June 28. The conference focused on commercial and industrial energy saving solutions for tropical environments.
Topics included solar LED lighting, lighting controls, air conditioning, power generation, water management, and power quality. Knight emphasized, in his remarks, the government's overall plan to reduce the territory's fossil fuel consumption by 60 percent by the year 2025. The Virgin Islands joined the EDIN (Energy Development in Island Nations) project in February 2010 at which time that goal was established. Quality Electric Supply this year became recognized as the first local partner in the EDIN-USVI initiative. EDIN-USVI is joint initiative of the Energy Office and the Water and Power Authority to leverage the technical resources of the National Renewable Energy Laboratories (NREL) as part of the EDIN project.
Citing the economic and environmental costs of using fossil fuel, Knight said, "Everything we need to do is encompassed in that goal." He spoke with cautious optimism about its attainment. He said, with projects recently implemented and projects just about to be completed, the Virgin Islands is on its way to reducing its fossil fuel consumption. He mentioned the Water and Power Authority recently bringing online a Heat Recovery Steam Generator and he mentioned the 450Kw solar project at the St. Thomas airport. He also talked about the efforts going on through an American Recovery and Reinvestment Act grant administered by the Energy Office to make 11 schools more energy efficient. The projected savings for the Department of Education because of those energy retrofits is over $2 million annually.
His caution was evident in his words, "But, we still have a long way to go." He explained that the reduction had two components energy efficiency and renewable energy production. He added that the biggest reduction is expected to come from the energy efficiency component.
WAPA Executive Director Hugo Hodge Jr. also spoke discussing alternative energy strategies at WAPA, such as the utility's recent request for proposals for up to 10 megawatts of solar power production. He said, "If there is anywhere wind and solar make sense, it makes sense here."