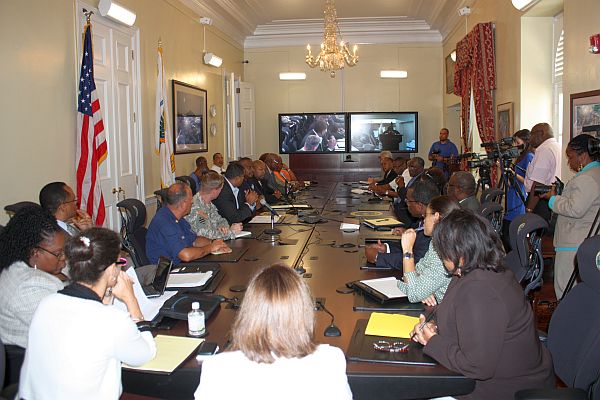 At an emergency press conference Monday at Government House on St. Thomas, Gov. John deJongh Jr. said that it is wise for residents to prepare for the worst as Tropical Storm Emily approaches.
Although it appears at this point that the territory will not take a direct hit from Tropical Storm Emily, residents should be prepared for gusty winds and up to 10 inches of rain starting as early as Tuesday morning, according to government officials.
Emergency response officials from across the government assembled to give briefings on how their agency is preparing for the possibility of a storm.
During the press conference, deJongh was informed that:
–all V.I. ports are currently still open;
–the V.I. Water and Power Authority has enough equipment (including poles and other hardware) along with the necessary contracts for emergency crews in place to respond to a disaster;
–the Department of Human Services is making arrangements to open shelters on all three islands at 4 p.m. Tuesday and will remain open depending on the severity of the weather (opening first are shelters at the St. Croix Educational Complex, the Sugar Estate Head Start on St. Thomas and the Julius Sprauve School on St. John.) The department will also be providing double meals on Tuesday to Meals on Wheels clients on St. Croix, and double meals to clients on St. Thomas and St. John who receive food seven days a week. Services will return to normal later in the week.
–Public Works has engaged emergency crews for roadside clearing and debris removal and has been stockpiling sand for sandbags. On St. Croix, residents can get sandbags at the Estate Grove and Cotton Valley fire stations, along with the department's compound in Estate Concordia and the compound in Anna's Hope. Sandbags are also available at Public Works' compounds on St. Thomas and St. John. In case of emergency, residents can call Public Works at 773-1290 on St. Croix, 776-4844 on St. John and 776-6346 on St. John.
–Police officers have been put on 12-hour shifts in order to be ready to respond in case of an emergency. They are ready to enforce any curfews that are put in place and will be assessing the state of roads after the storm.
–Federal Emergency Management Agency officials are already on the ground in the territory and will be coordinating with other federal partners on response efforts.
DeJongh said that in preparation for the storm: the Department of Licensing and Consumer Affairs have been directed to freeze prices, the Department of Property and Procurement is working with Human Services to make sure the V.I. shelters are well-stocked, and the Tourism Commissioner and V.I. Port Authority Director have been made aware that cruise ships coming to the territory will be "repositioning."
Airlines with flights in and out of the territory will sending notices about re-schedulings, deJongh said.
V.I. Fire Services stations are well-stocked on all islands, but fire fighters have been asked to pay particular attention to the needs of the Coral Bay area on St. John, deJongh said.
Department of Education summer programs ended Friday, but workers are making sure that the facilities are now "well protected and battened down," he said.
As of 8 p.m., Emily's center was 15.2 degrees north latitude and 62 degrees west longitude or about 50 miles west southwest of Dominica. The storm was moving west at 17 mph with winds of 40 mph with gusts to 50 mph.
Briefings from the National Weather Service have indicated that the system is expected to pass south of the territory, which will begin feeling the impact by Tuesday morning. Rain associated with the system, which will be felt most on St. Croix, is expected to go into Friday morning, according to Elton Lewis, director of the V.I. Territorial Emergency Management Agency. (For more information on Emily, see "Territory on Tropical Storm Watch as Emily Approaches.")
Residents are being asked to monitor TV and radio stations, and V.I. Alert since there is still the potential for development, Lewis said.
He said that VITEMA began its preparations last Thursday by making sure that its federal partners were ready to help with the response and recovery work. VITEMA's emergency operations centers on all three islands were also fully operational at 5 p.m. Monday, he said.
Lewis cautioned residents to have an emergency response plan ready, along with contact information and emergency supplies in case they have to leave their homes or are lose their power for a significant amount of time.
While acknowledging that the territory might be spared a direct hit and that the storm may remain south of St. Croix, deJongh said, "The most important part of the today especially is that we are prepared between now and November as we enter the hurricane season."