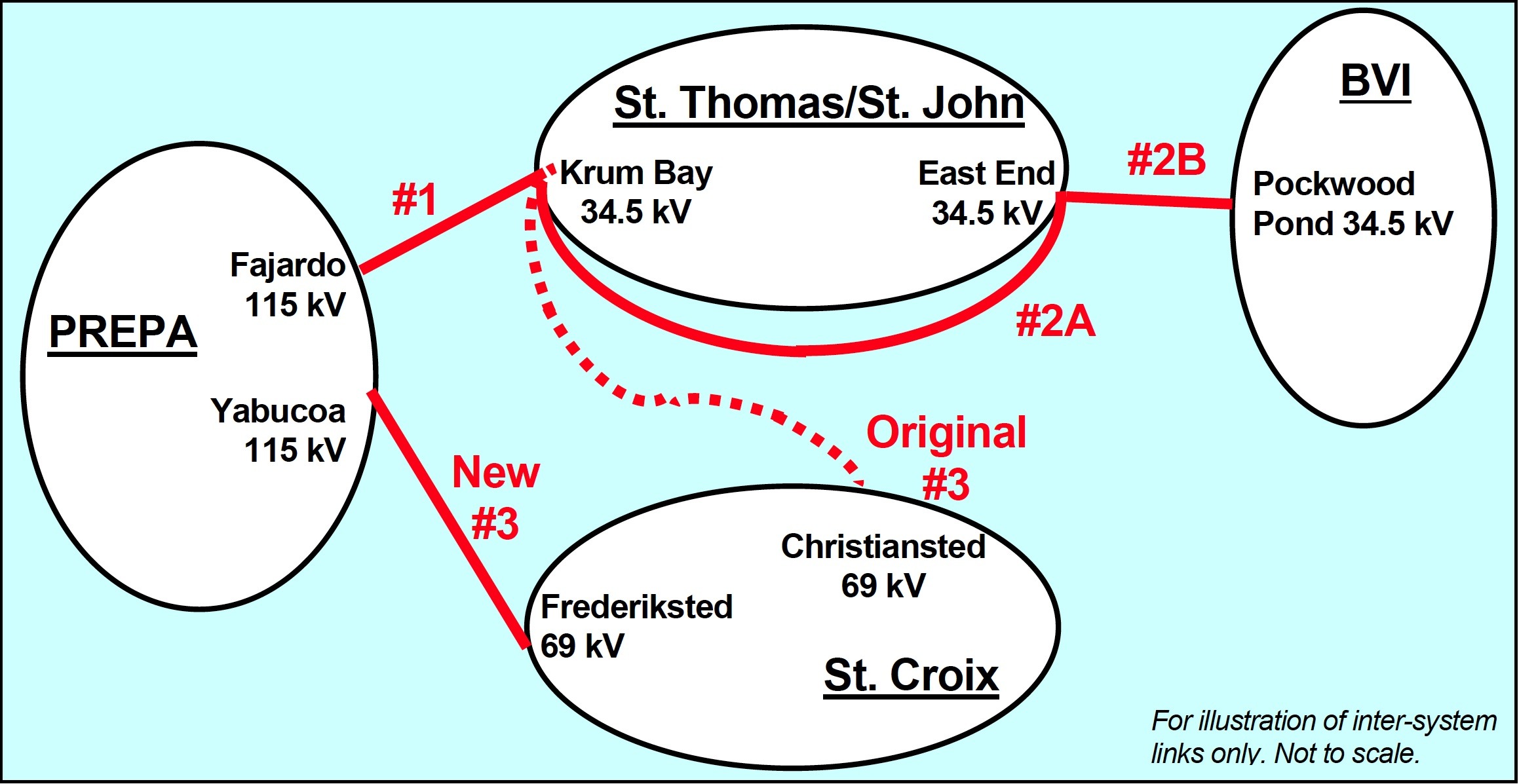 Connecting St. Thomas, St. Croix and the British Virgin Islands to Puerto Rico's electrical grid with submarine cables is technically possible and economically feasible, according to a just-released study performed by the energy technology firm Siemens.
"The biggest takeaway is the connection is feasible," V.I. Water and Power Authority Executive Hugo Hodge Jr. said Monday evening. The study also found that the grid would lower bills, improve reliability and cut down on pollution.
WAPA, which commissioned the study, had Siemens look at several ways of connecting Puerto Rico's electrical grid to St. Thomas, St. Croix and the British Virgin Islands via submarine cable. The study narrows the field down to three workable interconnections: from Fajardo in Puerto Rico to the Randolph Harley Power Plant's Krum Bay Substation on St. Thomas; two sets of cables connecting St. Thomas to Tortola, BVI; and a cable from Puerto Rico directly to St. Croix.
For practical engineering reasons and because of costs, the cables would be installed in phases, starting with connecting St. Thomas to Fajardo, then the BVI link, and St. Croix last, Hodge said.
The Fajardo-St. Thomas cable would run across 50 miles of ocean, and could be either AC or DC current, with either 100 or 200 megawatts of capacity.
The BVI connection would have two AC cables: 20 miles from Krum Bay Substation to East End Substation, then another 17 miles to Pockwood Pond Substation on Tortola.
At the outset, WAPA planned on then running a 100-mile cable from St. Thomas to St. Croix, taking an indirect route to avoid the deepest water. That would have tied the entire territory into a single grid, Hodge said.
But that route would reach depths of 7,200 feet, though, which is far deeper than the deepest submarine cables today, the study concluded. It could conceivably be done, but would require development, testing and a full sea trial, with a cost of at least $5 million just to find out if it is possible at all, according to the study.
So instead, WAPA is looking at a 79-mile 100 megawatt DC cable between Yabucoa Substation in Puerto Rico and Frederiksted Substation on St. Croix, which would have a maximum depth of 5,640 feet—still deeper than other cables, but only by about 300 feet, making it much more feasible with existing technology.
Connecting St. Thomas to St. Croix would have tied the entire territory onto a single grid, helping to strengthen and stabilize the power system even when not taking power from Puerto Rico, so it is a little disappointing that it would be very difficult to accomplish, Hodge said.
But connecting to Puerto Rico and the BVI still has many advantages, even without tying the whole territory into one grid, he said. Puerto Rico electricity rates are currently 20 to 25 percent less than V.I. rates, thanks to a larger grid and a broader selection of energy sources, he said.
That would translate into lower savings, because of the cost of the cables and equipment and because only a portion of the power would be supplied by Puerto Rico, he said. While the actual savings will depend on negotiations with Puerto Rico and other factors, a 15- to 20-percent savings would not be surprising, he said.
Aside from saving fuel and money, the interconnection would make it much easier for WAPA to overhaul its turbines because it could take them offline without stressing the rest of the system, so the entire system would become more efficient over time.
And in a similar fashion, it would make it easier to incorporate more solar, wind and other alternative power sources onto the grid because the grid will be able to adjust more rapidly to changes in power supply and demand, he said.
Plus it would cut pollution in the territory. With a connection to Puerto Rico, the territory's oil-fired generators would not be called upon to run so much, which is expected to reduce WAPA's carbon dioxide emissions by about 200,000 short tons per year.
Since the territory will still have its own power generation, power will never be dependent on Puerto Rico too, Hodge said.
One surprising finding was that high voltage DC power, traditionally much more expensive than AC, has fallen to nearly the same price, making it more feasible. "DC is the way to go," Hodge said, because there is less line loss and it is safer for the grids on either side of the submarine cable.
Dollar estimates have been edited out of the study to avoid giving that information to future bidders, Hodge said. For comparison, the Puerto Rico-St. Thomas connection, a 100 megawatt AC cable, is set at 100 percent. A 100 megawatt DC connection would cost only 4.4 percent more. A 200 megawatt AC connection is next at 12.9 percent, and a 200 megawatt DC connection would cost 16.4 percent more than the baseline 100 megawatt AC cable.
"DC is the way to go," Hodge said. Traditionally, DC has cost much more than AC, so he had originally expected that would be the recommended route, but new technology had brought prices down, making it very comparable, he said. "With AC you actually marry the two systems, so you see more of the other system's faults affecting your system, whereas DC is truly separate and insulated, so DC is definitely preferred and more stable."
The next step is to confer with Gov. John deJongh Jr.'s administration and Puerto Rican officials, then head to Washington, D.C. to speak with Delegate Donna Christensen and officials from the Energy and Interior departments, to begin applying for grants and lobbying for funding, Hodge said.
Even in these tight fiscal times, there are existing grants available that may help defray the cost, and each phase will begin as funds become available, he said. Without any help, WAPA may still be able to finance the cables itself, but it would be much slower and more difficult, he said.