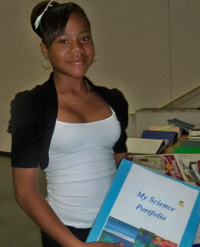 Mathematics Environmental Science Academy students showed off their research and field work on environmental issues to help improve, protect and preserve St. Croix at a special presentation Friday.
Public and private school students took part in the four-week MESA program at locations all over St. Croix. They investigated issues and concerns related to alternative sources of energy, coastal zone management, drainage systems, local fishery, solid waste management, and health and nutrition.
Rosa V. White, MESA co-developer and science coordinator, said they believe in the "teach one" model of education, educating the public one at a time. They encourage students to move up the ladder and come back summers during college to become research assistants.
White said 97 percent of the MESA participants have gone on to study science and math. She said over the past six years different government agencies have used their research and studies.
Kurrisa Vialet, a junior at the University of Southern Florida majoring in chemical engineering, is a research assistant.
"This gives youth a chance to look at science in a fun and different way," Vialet said. "They get to experience new things and do it hands on."
The MESA program is broken into junior high and senior high categories. Three groups of junior high students focused on algebra, physical science and communication skills. Senior high students in five groups worked with lead investigators and student research assistants.
Classroom work was at Educational Complex but students did a lot of hands-on activities, touring, hiking, research, and doing field work.
William Coles of the Department of Planning and Natural Resources led a strenuous hike to Caledonia Springs so students could see and experience water flow on St. Croix that they would not normally get a chance to see.
The students did a Columbus Landing, Cane Bay and Shoys Beach cleanup and field trips to check the watersheds and water flows at the Estate Adventure Trail and the Bethlehem Gut to see that guts need to be kept clean and free-flowing. They studied the area of the new Christiansted bypass to understand the importance of drainage.
They monitored water quality at beaches under the supervision of DPNR. Some snorkeled for the first time in a clinic lead by John Farchette, of East End Marine Park DPNR. They saw runoff into the sea and learned how poor water quality affects coral and marine life.
And they checked out the aquaculture tilapia farm and vegetable market at the University of the Virgin Islands Cooperative Extension Station.
Around 120 students took part in the research. Dujon Roberts, a senior at Complex in his third year of MESA, said he has learned why certain environmental things have to be done the way they are and how they are done with certain equipment. "But I see we still need to do more research to help with the problems," Roberts said.
Randallia Knight, a senior at St. Croix Central High School, said she wants to be a part of the solutions to the problems.
The junior high students did a skit on littering and the effects on tourism. The students displayed journals and portfolios, and group leaders did an oral recap of the activities they were involved in.