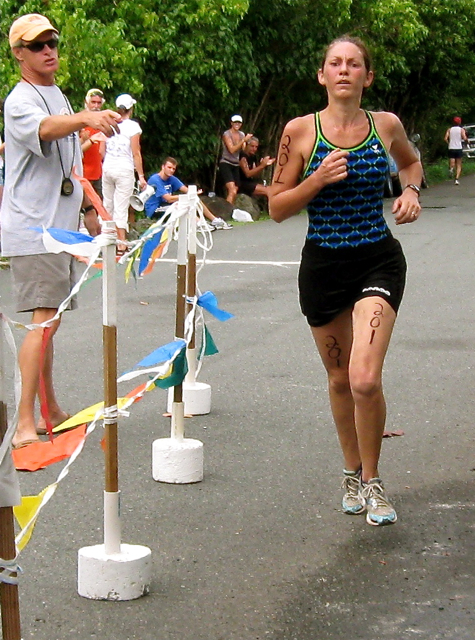 The V.I. Triathlon Federation may best be known for its involvement in many athletic events, but the organization has one important purpose.
"Our mission is to identify and develop young triathletes and put them on the path to the Olympics," president Scott Fricks said.
With that goal in mind, the federation – which is a member of the V.I. Olympic Committee – runs several youth-only triathlons throughout the year.
Fricks said there are many youths who are becoming fine triathletes. Two now in their 20s used their youthful experience with the federation to forge names for themselves on the triathlete circuit. Fricks said former St. Croix resident Morgan Locke, who now lives on St. Thomas, is headed for the upcoming Pan American Games, a stepping stone to the Olympics. Sissel Holloway, who now attends Springfield College in Massachusetts, has qualified to participate in an upcoming U.S.A. Triathlon event in Burlington, Vt.
While the main goal is to foster triathletes, federation secretary Theresa Harper said it also has another purpose.
"We're about having fun," she said.
The organization puts out a newsletter, which Jude Woodcock, vice-president for St. Thomas and St. John, said was useful for everyone from beginners to longtime members to learn about upcoming events.
"And the other benefit is that the federation has purchased corporate tickets with the seaplane," Woodcock said.
The federation sells those Seaborne Airlines tickets to its members to help cut costs when traveling between St. Thomas and St. Croix for events.
The federation has a long history, but it languished until 2009 when Fricks and others brought it back to life. In addition to Fricks, Harper and Woodcock, the organization's officers include Roger Hatfield as vice-president for St. Croix, Carol Murphy as treasurer and Barbara Dean as kids series coordinator.
According to Harper, the federation has 46 members. She said those 46 members help organize the triathlons held on all three islands. While members do not organize the territory's biggest triathlon event, the St. Croix Ironman, Harper said federation members do volunteer.
Federation members come from across the Virgin Islands and a few from the nearby British Virgin Islands. Most are elite athletes who relish the challenges that come with swimming, bicycling and running in one event, but Fricks said that some belong because they want to help encourage upcoming athletes.
"There's something for everyone to do," Fricks said.
For example, he said people who want to get their triathlete feet wet should sign up for St. Croix's Aug. 7 Beast of the East 5 K followed by the Triple Mini Marathon. The Triple Mini starts with a 200-meter point-to-point shoreline swim.
"If you get tired, just stand up," Fricks said, referring to the shallowness of the water.
The swim is followed by a three-mile bicycle ride, which Fricks said was "incredibly hilly but manageable." The event wraps up with a half-mile run. Those who want more of a challenge will do the marathon three times back to back.
Harper said one of the more fun events was the Island Hopper. In this race, which requires two people on a team, one person bicycles and the other person runs. When they reach a line, they switch places for the rest of the six to 10 miles course.
"It's leapfrogging," she said.
The $35 a year membership also includes participation in the organization's clinics, discounts on event entry fees and invitation to members-only social events.
A membership form is available on the organization's website, www.vitf.org.