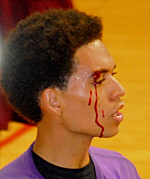 The Kings withstood a strong fourth-quarter rally by Alliance to win, 88-85, in New Breed Basketball Association Thursday night action at the Ronald Charles gymnasium.
The Kings dominated play for three quarters and looked well on their way to an easy victory, but Alliance showed why many fans expect them to be among the league's elite — outscoring the Kings 49-34 after intermission.
The Kings' star players, point guard Stephen O'Reilly and Craig "Big Smooth" Williams scored 13 and 11 first half points respectively to lead an attack that propelled them to an 18-point lead going into the locker room at the half.
The lead would swell to as much a 25 points early in the third, but nearing the end of that period Alliance picked up their defensive intensity. Led by 10 points from forward Warren Christian, they outscored the Kings 19-16 to close the third quarter down by 15 at 70-55.
The final quarter was all-out war. Things got very physical, and the Kings' O'Reilly suffered a nasty gash over his right eye that knocked him out of the game and into the hospital.
Without the Kings' best ballhandler, Alliance pounced. They were flying on defense, coming up with steals, diving for every loose ball while their offense continued to cut into the lead.
Christian scored eight of his 18 second half points in the fourth, and Andre McIntosh also had eight as Alliance went on a 25-7 run to open the quarter and took an 80-77 lead to, the delight of the many fans hoping for the upset.
But the Kings' Williams, with the game in the balance and his team faltering, took over on both ends of the floor down the stretch. He came up with some key rebounds and several blocks, and scored 11 of his teams 18 points in the period as they went on an 11-5 run to close out the game and hold on for the 88-85 victory.
As good as Williams was down the stretch, Alliance had no one to blame but themselves for coming up short. They missed 10 of 13 free throws with the game in the balance.
Williams led 11 Kings in the scoring column with a game-high 28 points while grabbing 12 rebounds. O'Reilly was the only other Kings player in double figures with 13 points, six assists, and three steals in his abbreviated night. Twelve Alliance players got into the scoring column led by Christian, with 25 points and eight rebounds, and McIntosh who finished with 15 points and eight rebounds.