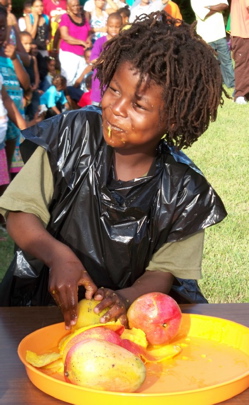 Mango Melee is always a big, big event, but this year it'll also be small. Maybe even tiny.
The annual celebration of the Caribbean's iconic fruit, Mango Melee will be held from noon to 6 p.m. Sunday at the St. George Botanical Garden. The event includes cooking competitions, plant identification contests, the ever-popular mango eating contest, and this year organizers are trying a new contest – the Mega Mini Mango Contest.
People can bring their biggest or the smallest full, mature mango to enter in the contest. Winning mangos will be judged by weight.
The new competition is part of the sponsors' efforts to make the event "bigger and better" every year, according to David Hamada, director of the botanical gardens.
Each year the Melee has a "featured fruit" that shares the spotlight with mangos. This year it's pineapples, Hamada said. Different varieties of the hundreds of locally grown pineapple types will be available for comparison.
The Mango Dis, Mango Dat contest offers mango cooking competition in four food categories for both professionals and amateurs. The registration deadline is Thursday.
Judging for Mango Dis, Mango Dat will begin about 1 p.m. Sunday, and winners are scheduled to be announced at 1:30 p.m.
Regstration for the mango-eating competition will begin at 4:30 p.m., and the contests will begin at 5 p.m. There will be openings for 10 children, who are required to eat five mangos as fast as they can, and five for adults, who eat 10.
The day also includes educational workshops, tasting of mango and tropical fruits, garden tours, food and craft vendors, farmers, nursery sales, a fruit auction, mango and tropical fruit display, and live entertainment by DJ Swain and the Superior Court Rising Stars Steel Orchestra.
V.I. Sea Trans will offer ferry service to and from St. Thomas for the event. A Mango Melee ferry will leave St. Thomas at 9:15 a.m. Sunday and sail to the Frederiksted pier, rather than Christiansted. The ferry departs from Frederiksted for the return trip to St. Thomas at 6:15 p.m.
More information on Mango Melee can be obtained by calling 692-2874. opportunities are available.