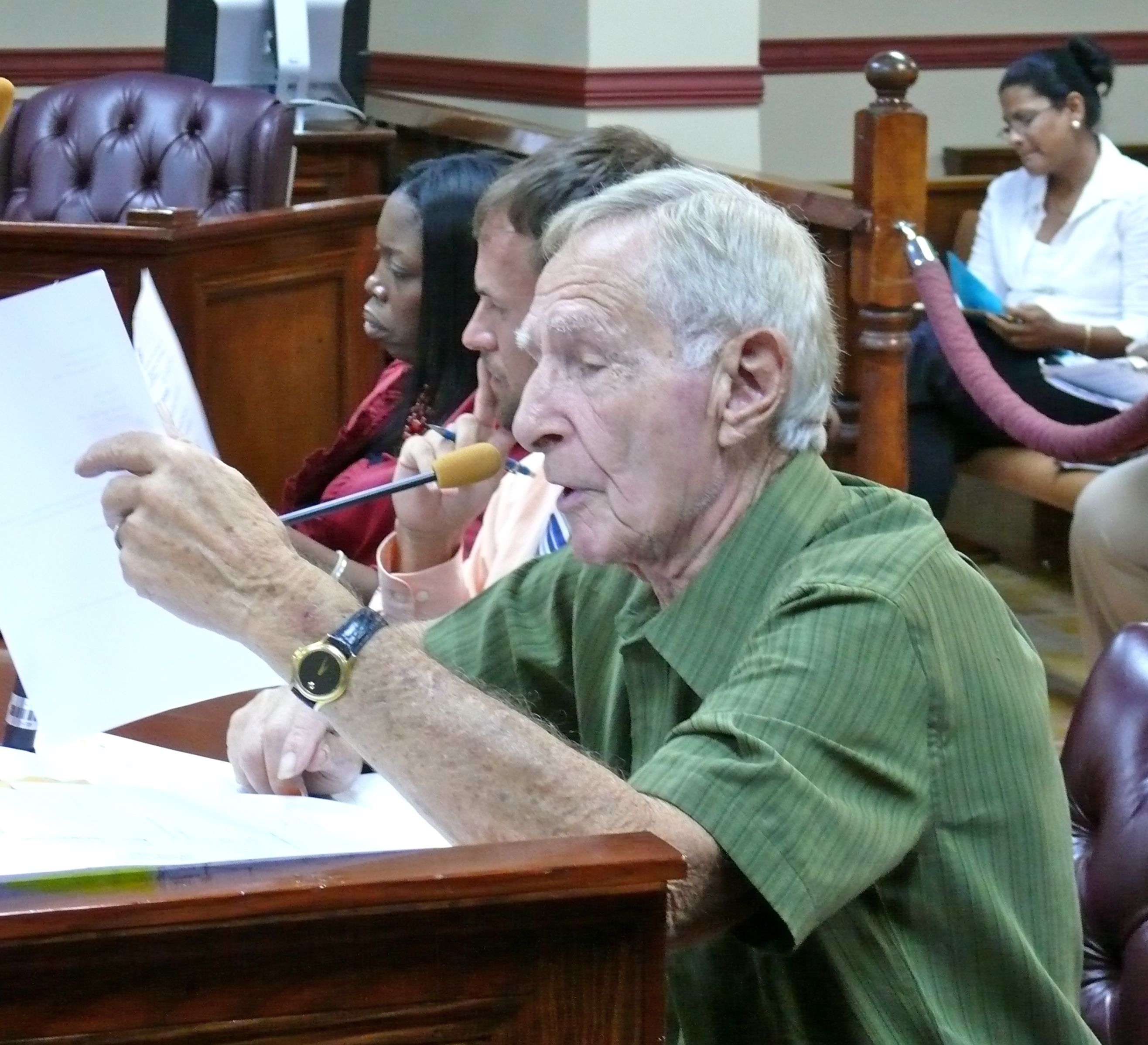 Residents of Estate Enfield Green came out in force once again Monday to oppose plans for a gas station just outside their neighborhood at a zoning hearing before the Legislature Monday in Frederiksted.
At least one resident also gave a full-throated defense of the proposed development. The Legislature met as a committee of the whole, and no votes were cast.
Theodore Cohen, one of the original developers of the Enfield Green community at the corner of West Airport Road and the Melvin Evans Highway, is asking to have several plots immediately outside the community's gate be rezoned from residential, medium density (R3) to business, scattered (B3) so he can build a gas station and convenience store.
Cohen's plans call for a small commercial center or strip mall, with six other shops—three on either side of his proposed gas station and convenience store. Initial plans called for a laundromat as well.
One after another, residents spoke of their opposition to the rezoning, arguing that gas tanks could leak, that it was too close to their homes, and that they did not want to be concerned with people loitering around the gas station, drinking and so forth, as is common at many other St. Croix gas stations.
Most, though not all, were willing to accept a store, but not a gas station.
"I am adamantly against a gas station in the Enfield Green area," said Carl Christensen, an 18-year resident of Enfield Green, adding that the neighborhood "is evolving into a beautiful community" with low crime, no litter and well-maintained yards."
A gas station, he argued, would bring unwelcome activity to the area and is not needed. "There are seven gas stations within a five-minute drive," said Christensen.
Naomi Joseph, speaking on behalf of the Enfield Green Homeowners Association, said the association opposed a gas station "because of the type of loitering that typically comes with that type of business."
Enfield Green resident Ava Bourdon also opposed a gas station but not necessarily a daytime retail business. "We really don't need a gas station right outside our door," Bourdon said. Several others also spoke out in opposition to a gas station.
Aside from Cohen himself, former Sen. Norman Jn Baptiste offered the strongest endorsement of Cohen's plan.
Along with development and jobs, it "would bring significant, though perhaps unperceived convenience to the residents of Enfield Green and would also deliver a much-needed economic shot to St. Croix," Baptiste said.
Stuart Smith, director of Comprehensive and Coastal Zone Planning at the Department of Planning and Natural Resources, said zoning officials were recommending a zoning variance to specifically allow a convenience store "in a spirit of compromise."
The variance would have several conditions, including creating a buffer of trees and shrubs, and requiring the entrance to the store be separate from the entrance to the neighborhood.
Cohen said he could be flexible about some aspects of the business but needed the gas station.
"If I don't pump gas, I don't draw customers to the center. It's something like an anchor," said Cohen.
This is the third time Cohen has requested the variance, said Senate President Ronald Russell at the outset of the hearing. A similar hearing was held in 2009 on the subject.
In previous hearings, no senator sponsored the measure, so it was never voted up or down by the full Senate, said Russell. This time, to ensure the rezoning gets a final up-or-down vote, Russell said he would sponsor the measure simply to see the matter resolved once and for all.
No votes were taken. Present were Russell, Sens. Craig Barshinger, Nereida "Nellie" Rivera-O'Reilly, Sammuel Sanes and Usie Richards.
Meeting in committee of the whole, the Legislature cannot vote on a rezoning, only hear testimony.
The rezoning request would probably be on the agenda at the next full session of the Legislature June 22-23, Russell said.