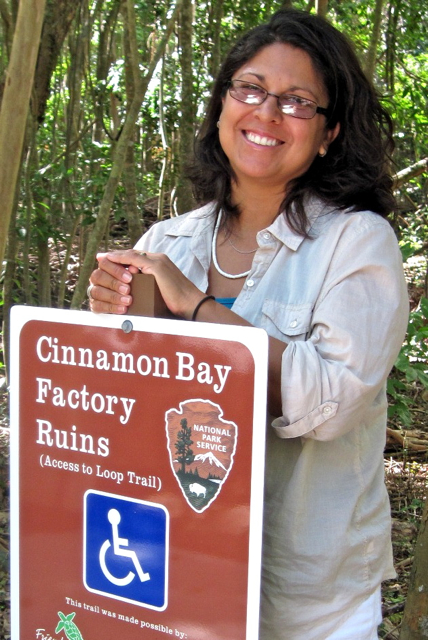 When she arrived at the Cinnamon Bay accessible trail, almost the first words out of Rosanne Ramos Lloyd's mouth were "this needs benches."
Ramos, who owns Inclusion by Design consulting and design firm, helped develop the trail. She pointed out several spots where it would be easy to install benches so people could rest along the way.
"Everyone always assumes it's about the wheelchair, but only 5 percent of people use wheelchairs," she said, referring to people with disability issues.
Lloyd, 38, earned a bachelor's degree in architecture from the University of Houston, in her hometown. While attending graduate school at the Rhode Island School of Design to get a master's degree in industrial design, she got interested in accessibility.
She and a partner formed a company, Multi, Design for People, and a job spearheading a Destination for All symposium based at Maho Bay Camps in 2005 introduced her to St. John.
A romance with Wayne Lloyd, who was then the resident manager at Maho Bay, followed. The two got married in 2010 and the couple moved from Providence, R.I. to St. John.
She continues to work with Maho owner Stanley Selengut on developing accessibility units at his Concordia Preserve resort, and travels to other locations to consult and design on accessibility issues.
With the first of the baby boomers now reaching the age where mobility issues begin to creep in, she said that designing for that demographic will become increasingly important.
While she continues to work with people who want to "age in place," as well as other clients, she's shifting her focus to accessible tourism. Although they may face some issues, many people with accessibility needs don't let that factor limit their life, she said. They travel, and she said they often stay longer than those without accessibility needs.
Lloyd plans an Internet travel guide featuring accessibility, a publication that will have a big market as the need for accessibility at vacation destinations becomes better understood.
While there are many, many instances both in the Virgin Islands and the rest of the Caribbean that are not truly accessible, Ramos said that the job of making them so is now a little easier because the Americans with Disabilities Act recently issued guidelines for places like campgrounds and trails.
As for how St. John measures up, Lloyd hasn't done an in-depth-survey, but she knows it's not good. For example, the new Enighed Pond parking lot doesn't begin to meet accessible guidelines. While she knows that the parking lot needs a permeable surface because it's built on filled land, materials are available that will meet accessible guidelines and be usable in this particular parking lot.
"You can get permeable concrete. You can get permeable pavers," she said.
While applauding the efforts that have been made on St. John, she said existing accessible parking spaces aren't up to code. However, she's pleased that the Friends of V.I. National Park took the lead in creating a truly accessible trail at Cinnamon Bay.
"A project like this is a wonderful sign that they're going in the right direction," she said.
Lloyd can be reached at 693-5472. Her website is www.inclusionbydesign.us.