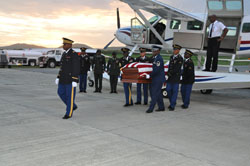 As the sun began to set Wednesday in St. Croix, a somber stillness encompassed the soldiers and airmen of the V.I. National Guard as they received the remains of former Lt. Gov. Derek Hodge.
When the plane touched down at the Henry E. Rohlsen Airport just after 6:30 p.m., the guardsmen were in tight formation to give their final salute and pay homage to the former VING member, who served as a captain prior to becoming the lieutenant governor in the Farrelly-Hodge Administration.
The V.I. National Guard's adjutant general, Maj. Gen. Renaldo Rivera, said, "We honor this dedicated public servant and pay tribute to his military service in the VING."
During Hodge's military service, he served as VING's state staff judge advocate from 1981 to 1983, where he provided counsel to senior leaders and members of the guard. While serving in the V.I. Legislature and during his distinguished career as lieutenant governor, Hodge remained a staunch supporter of the guard and its members.
This morning in St. Thomas, Hodge lay in state at Government House from 8 to 11 a.m., and
A Celebration of Life mass was held at the All Saints Episcopal Church at 1 p.m.
Thursday, Hodge will lie in state at Government House, Christiansted, from noon to 3 p.m., and
funeral services will be held Friday at St. John's Anglican Church beginning at 9:30 a.m. followed by interment at Frederiksted Cemetery.
In lieu of flowers, the family has requested that donations on St. Croix be made to the V.I. Cardiac Center, and on St. Thomas to the Charlotte Kimelman Cancer Institute.