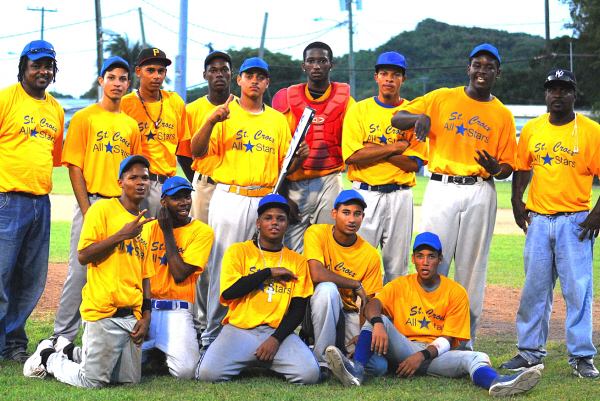 The St. Croix Elmo Plaskett 16-18 All-Stars are the Virgin Islands champs after dominating their St. Thomas counterparts to sweep of the best of three series at the D.C. Canegata Ball Park.
After thumping their rivals from across the pond 20-1 in the series opener Friday behind the one-hit pitching of Joshua Torres, the Crucians wrapped things up with a come-from-behind 7-3 victory Saturday.
By beating the St. Thomas club, the St. Croix All-Stars earned the right to represent the V.I. in the Central American and Caribbean tournament in Puerto Rico later in June.
The Thomians opened Saturday's contest with three straight hits against Crucian starter Daniel Franco and looked to have ideas of tying the series. All three runners scored on an RBI single by Malakai Frederick and three costly St. Croix errors. The home team would fail to score in their half of the inning and the visitors were visibly elated with the early 3-0 lead.
But that would be all the scoring they would do, as Franco would settle down and pitch five scoreless innings before turning the ball over to closer Shaquille Joseph for the final three outs.
St. Croix began their series-clinching rally in the second inning when Joseph delivered a two-run single to cut the lead to one at 3-2. They then took complete control of the game in the top of the fourth inning when they plated five runs in the inning to take an insurmountable 7-3 lead.
Of the five runs, only one was earned as the St. Thomas squad aided in their own demise by allowing four unearned runs.
Franco got the on the mound for St. Croix while Javier Lima got the loss. Top batters for the champs were Javier Perez (3 for 3 with an RBI) and Joseph (1 for 2 with two RBIs). For St. Thomas, Yohane Henley and Frank Thomas were both 2 for 3.