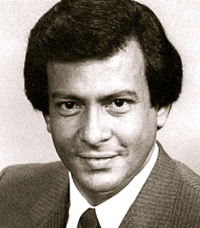 Gov. Juan F. Luis, the third elected governor in the history of the U.S. Virgin Islands, died Saturday afternoon at the St. Croix hospital that bears his name. He was 70 years old.
Luis, who had been hospitalized since Friday, was born in Vieques, Puerto Rico, in 1940 and moved to St. Croix at the age of two months. His efforts during his governorship to improve health care by creating modern hospitals on both St. Thomas and St. Croix drew praise from many, as condolences to his family and friends began pouring in after the news of his death.
Luis was the 23rd governor of the U.S. Virgin Islands, and the third elected governor. He succeeded to the office as lieutenant governor in 1978 upon the death of Cyril E. King.
A biography of Luis on the V.I. Department of Education's website, "Profiles of Outstanding Virgin Islanders," lists his achievements as including:
the elimination of double sessions in public schools;
establishment of modern health care systems;
initial expansion and financing of the airports on St. Thomas and St. Croix;
construction of a new container port on St. Croix;
acquisition of land on St. Croix for home ownership and agriculture, and;
numerous capital construction projects.
Before entering politics Luis had a long and varied career, including serving in the U.S. Army as a sergeant, personnel administrative officer in the Virgin Islands Department of Health, industrial relations manager for Litwin Corporation, accountant for Burns International, and personnel manager for the Estate Carlton Hotel.
Luis was elected to the Virgin Islands Senate in 1972. In 1974, gubernatorial candidate Cyril King convinced Luis to become his running mate, and the two were elected governor and lieutenant governor that November.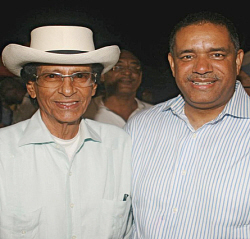 Luis was sworn in as governor on Jan. 2, 1978, after King's death. He was elected to the first of his two full gubernatorial terms in November 1978. He ran again and was re-elected in 1982 and served until 1986. By law he could not take a third consecutive term as governor and stepped down.
He sought to return to the office in 1990, but was defeated by Alexander Farrelly.
Gov. John de Jongh Jr. extended condolences to Luis' family.
"The people of the Virgin Islands join my wife, Cecile, and I in extending heartfelt sympathies to Gov. Luis' wife, Luz, and his adult children: Juan Francisco Luis Jr. and Carlota Amalia as well the extended family. In the death of Gov. Luis, the Virgin Islands has lost a true public servant," de Jongh said.
De Jongh said he first entered public service when Luis nominated him to serve as a member of the board of the then-V.I. Industrial Development Commission.
"I will be forever grateful to Gov. Luis for the confidence he expressed in me by nominating me to serve on this most important board," the governor said.
Delegate to Congress Donna Christensen also expressed condolences to the family, extolling his years of public service.
"Gov. Luis served our community for a decade, a period of growth and change for our island communities, and always strived to work on behalf of all Virgin Islanders," she said.
He was remembered fondly by a former employee, Dahlia Morales Bermudez, who served with the governor during his years in office.
"He will never be forgotten by those who knew and worked with him. He was a very special person," she wrote in an e-mail sent to the Source.
"He gave so much to the Virgin Islands the nine years he was governor – I know because I worked with him during that time on St. Croix. My boss was a hard-working man as governor. He was a loving husband, father and friend. He always had time to hear his people. The word 'never' was not part of his language, it was always, 'Let's see what we can do.'"
Bermudez said Luis never made promises he couldn't keep. "And more than anything, he never forgot his roots," she said.
DeJongh noted that this was the second loss for the territory in a short time.
"We have lost two great Virgin Islands leaders in one week," he said. "Former Lt. Gov. Derek Hodge, who died earlier this week, and former Gov. Juan Luis were political giants in the territory, and both did tremendous things to modernize the Virgin Islands and bring greater prosperity to our citizens."