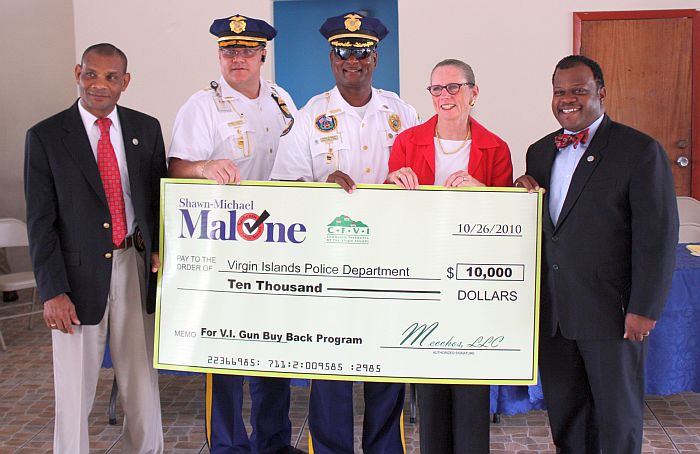 The V.I. Police Department is once again doing a "cash for guns" program, but this time around will be offering market value for the weapons, top brass said Thursday.
In previous years, the buy-back program gave minimal amounts for the guns turned in, but this year, $10,000 in funds from the community will allow the department to offer "top dollar" for whatever is turned in. The donation was acquired through Sen. Shawn-Michael Malone's office, and will be distributed by the Community Foundation of the Virgin Islands (CFVI).
The hope is to get the program started on St. Thomas and have other donors pitch in to continue it territory-wide, according to the Community Foundation's President Dee Baecher-Brown.
"We now have $10,000 and that $10,000 will go entirely for the gun buy-back program," Baecher-Brown said. "None of it is taken out for administrative fees, so if there are donors who want to help build this program we would welcome your assistance."
The department will run the program June 10 and 11, from 10 a.m. to 2 p.m., when an amnesty period will be in effect for all residents transporting guns, whether legal or illegal, to the Taxi Association Building in Estate Contant, where the weapons will be turned in.
"We want to make it clear to people that they are not being set up," St. Thomas-St. John District Police Chief Rodney Querrard Sr. said. "We are just trying our best to take each and every illegal firearm off the streets."
Querrard said residents transporting weapons should disclose that information to an officer right away if they are stopped while on their way to drop it off. Keeping the weapon securely locked in the truck of the car instead of the front seat is also recommended, he said.
Upon arriving at the Taxi Association building, residents will be escorted up by an officer and will move through three booths. At the first booth, the gun will be turned over to an examiner, who will determine how much the gun is worth.
"After that, the individual will go to the next station, where they will receive their dollars or a coupon," Querrard said. "Then the weapon will be turned over to our property clerk, where it will be properly logged and secured."
The guns will be processed and cut up into pieces, unable to function again, Querrard said.
Speaking about the donation, Malone gave credit to Steve Mitchum, who fronted the cash, and said that while these kinds of programs do not completely eliminate the number of illegal guns on the street, they do help raise awareness.
"Whenever there's an opportunity to get these dangerous weapons off the street, we should take it," he said. "Any little thing we can do to chip away at this problem is what we're doing."