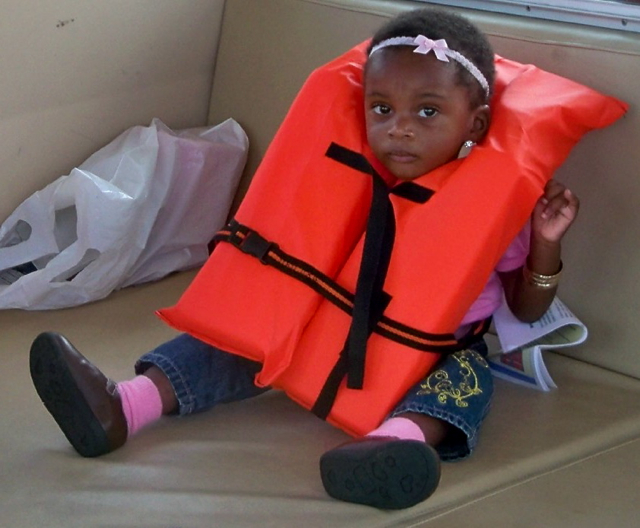 St. Croix youngsters Saturday afternoon were all smiles as they climbed aboard patrol boats to take rides around Christiansted harbor. Adults even had fun taking a turn at the wheel, steering the boat along the buoys and learning tips like Red Right Return on how to align the color buoys when entering the harbor and what lane to be in.
But it was not all fun and games, they were learning one definite rule of behavior – put on a life jacket. Wearing life jackets was the theme of the Department of Planning and Natural Resources and Coast Guard Auxiliary recognizing National Safe Boating Week.
"It is the law, life jackets are required for all kids under 17 in recreational boats," said Austin Callwood, director of enforcement for DPNR.
Callwood said the focus for the day was on wearing life jackets and water and boating safety.
Before the children boarded the DPNR patrol boat for a ride around the harbor Roland Moolenaar, DPNR enforcement officer, fitted students with personal flotation devices and stressed the importance of always using them.
The event in the park at Fort Christiansvaern included, besides free boat rides, free food, drinks, and games. Eight children won life jackets, their names being drawn from the names of the youngsters who had documented that they had visited all the information booths.
About 150 youngsters and adults visited booths sponsored by Housing Parks and Recreation, VI Police Department, DPNR East End Marine Park, U.S. Coast Guard Auxiliary, Customs and Boarder Protection, U.S. Coast Guard, National Park Service, and St. Croix Rescue.
Yanira Fernandez, a boat owner, said she brought her two children to learn about boating safety from the experts.
"This was wonderful today," Fernandez said. "It is something the whole community should have come out for. It is important that all of us using the water should know about water safety and rules." She got to captain the boat and said the experience was "awesome!"
DPNR will be holding the Boat and Safety Olympics on Sunday beginning at 10 a.m. on Small Bay (Beach just beyond the Lagoon). These competitive games opened to all interested youngsters and parents will focus again on boating safety while having fun. The events were scheduled for last weekend but had to be postponed because of rain.