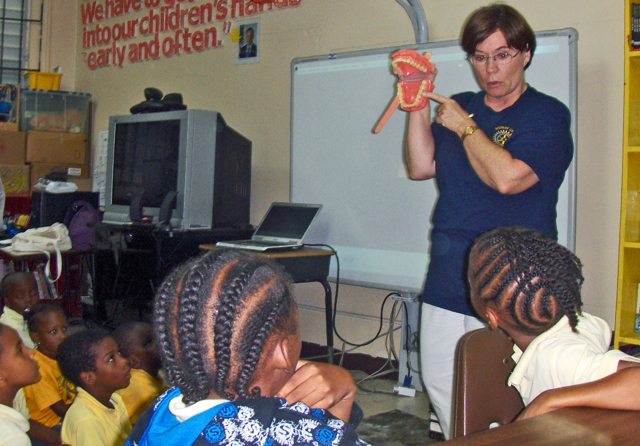 Susan Anderson holds an oversize denture and an enormous tooth brush above her head and asks, "What is dental health?"
The kindergartners and first graders seated before her at the Jane E. Tuitt Elementary School library stir, and one answers, "That's when you eat what's good for you." Another adds, "And brush your teeth after."
"Yes," Anderson agrees. "And when should you brush your teeth?'
It turns out twice a day is a good idea. After breakfast and before bed are the best times. The kids are then told about dental plaque, a new word to them, and treated to an animated video about the evil Plaqueman They are given toothbrushes, toothpaste and a Plaqueman comic and sent on their way with a hug from Anderson and the admonition, "Remember to brush."
The demonstration is a joint oral health project of the Rotary Club of St. Thomas East and Rotary Club of St. Thomas Sunrise. Anderson is a dentist and forensic odontologist. Last week she had made a presentation to students at Ivanna Eurora Kean High School, where the young audience received bags with toothbrush, toothpaste, floss, and dental information for their parents.
Anderson's interests have taken her far and wide, but she always seems to zero in on St. Thomas, where her mother, Elisabeth Swinson Sharp, a pillar in the community for years, was born, married, and died.
Anderson moved to St. Thomas in 1991 after graduating from the Oregon Health and Science University School of Dentistry the year before.
"I wanted my kids to see more than white, middle-class America," she says. Anderson has three children, now grown – Eric; Marcotte, and Elizabeth, who now works at Antilles School, where both she and Marcotte graduated .
Anderson had her own dental practice on island for several years, but says, the business end wore her down.
"I just wanted to see patients," she says, "without all the paperwork. It's so time-consuming, so I closed the practice and went to work for Dr. Andrew Buckley."
After a while, including time away from the island after her brother died, Anderson's inquisitive nature led her to take a course a course on dental forensics – the proper identification, examination and evaluation of dental evidence – at Tufts University School of Dental Medicine in Boston, where she studied under Dr. William M. Morlang, forensic odontologist and disaster management consultant.
"Dr. Morland is foremost in the field," Anderson says. "I was fascinated."
After the course, she moved to Pennsylvania to be with her boyfriend, now husband, pharmacist Dan Llewellyn, where she wound up becoming deputy coroner of Lycoming County.
"That was because the coroner had no opening for a forensic dentist," Anderson says, "so I learned a lot more."
Her expertise qualified Anderson to serve on one of five Disaster Mortuary Operational Response Teams (DMORT) assigned the task of sorting through the human wreckage in the aftermath of the Sept. 11 terrorist attacks. She arrived in New York a few days after the disaster.
She pauses. "I thought I might have been prepared because of my coroner work, but nothing can prepare you for that sight. Nothing. The death and destruction."
At the end of that first day, Anderson says, she decided to walk the three miles back to where she was staying. There were cops on every corner, and as she engaged one in conversation, she noticed a van approaching the corner.
"'Oh, there's my buddy!'" the officer said "'He got out of that place!' he yelled, as he ran to meet him."
The place, of course, was the World Trade Center.
Anderson applied her skills at Ground Zero working a four-day shift.
"You weren't allowed to do more than that at a time," she says.
She returned in January for ante-mortem work, matching dental remains with charts furnished by victim's relatives.
Switching subjects, Anderson talks about her mother's legacy. A historian and avid researcher, Sharp is most well known as the founder, along with her sister, Grace Swinson Martin, and Susan Lugo, of the Caribbean Genealogy Library on St. Thomas.
"It was her passion," Anderson says.
Sharp's private genealogy library initially established the collection in 2000.
Born and raised on St. Thomas, where her father once served as rector of All Saints, Anderson says her mother was also married and died on St. Thomas in 2008 at the age of 78. While living in the states, Sharp was one of the founders of the Immigrant Genealogy Library in Burbank, Calif., a nationally recognized resource for German-immigrant research materials.
A member of the V.I. Board of Dental Examiners, Anderson and her colleagues are working on a standard for dental records for the islands, an ongoing project f several years, she says.
Though retired from her dental practice, Anderson is busy. Besides her Rotary projects, she loves to travel and loves to write about it on travelwatch.com.