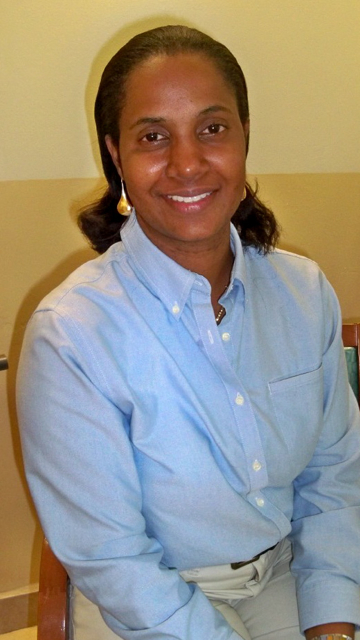 Hannifer Britton-Barry, a registered nurse, was recently chosen the Gov. Juan F. Luis Hospital Employee of the Year. Britton-Barry has worked in different departments serving the community for 10 years at Juan Luis.
"I am very surprised and honored to get the award," Britton-Barry says. "I wasn't looking for any awards. I was just doing my job, helping people. It's what I do."
She has worked as a nurse in pediatrics and is currently in the human resources department.
Britton-Barry was born on St. Croix and as she says, was "raised by both parents" Herman and Joyce Britton. At the age of 11 she decided to become a nurse after helping an elderly woman.
Britton-Barry is a 1993 graduate of St. Croix Central High School. She got her bachelor's degree from the University of the Virgin Islands in 2000.
She recalls the struggle carrying heavy nursing textbooks up the hills of the the St. Thomas campus. That same year she gave birth to the first of her two children. In 2001 she began her nursing career in pediatrics at Juan Luis, serving children from birth to the age of 15.
"The best part of the job was seeing children recover," Britton-Barry says. "And the parents satisfied with the care their children received."
In 2004 she began working as a nurse recruiter, a job she said allows her to explore and understand the administrative side of nursing. Then she was transferred to human resources, where she continued recruiting. In her position she makes sure the newly hired nurses get the right information on the hospital's policies and procedures and all aspects of giving the best patient care.
She has been exposed to all areas of human resources and helps out with other employees, not only nurses, she said. When a supervisor asks her to do something she always says yes because it is in her nature and in the best interest of the patients.
"We should succeed as a hospital with all of us working together as a team striving for the best possible patient care," Britton-Barry says. She added as a health care professional and nurse her joy comes from helping other people, even if she has to go the extra mile to make it happen.
Getting her master's degree in nursing education may be the next step for her. She has been married to James Barry for two years.
A luncheon awards ceremony will be held at Divi Carina Bay Resort and Casino Friday for all recipients. The employee of the year recognition is sponsored by the V.I. Division of Personnel.