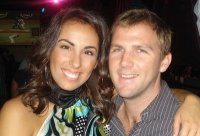 Mr. and Mrs. Elliott Mac Davis of Estate Canaan, St. Thomas, have announced the engagement of their son, Joseph Cameron Davis, to Erin Gresham, daughter of Gary and Dona Gresham of Yakima, Washington.
Gresham is an actress and vocalist. She is a professional property manager in Reston, Virginia.
Her father graduated from Southeastern University in Lakeland, Florida, with a Bachelor of Science Degree in Computer Science. He is retired from the U.S. Navy. His current avocation is acting. Her mother graduated from Northwestern State University of Louisiana in Natchitoches, Louisiana, with a Bachelor of Science Degree in Accounting. Also retired from the U.S. Navy, she is a homeschooling instructor and a hospice volunteer. She is a member of Holy Family Parish Catholic Church in Yakima, Washington.
Davis, a graduate of Brown University, earned a Masters Degree from the Terry Sanford School of Public Policy at Duke University and a law degree from Duke University School of Law. He is an associate with the law firm of DLA Piper in Washington, D.C. His father is assistant legal counsel to Governor John P. deJongh Jr. His mother, Deborah Kreke Davis, is president of DKD Real Estate on St. Thomas.
A November wedding in Annapolis, Maryland, is planned.