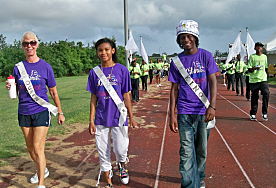 A thunderstorm with lightning and buckets of rain put a damper on the American Cancer Society St. Croix Relay for Life Saturday, forcing the relay's cancellation — though organizers said it would resume Sunday.
The relay kicked off at 4 p.m. under cloudy skies with hundreds of people marching around the track at St. Croix Education Complex. It was to be a celebration of life, more birthdays and 10 years of the relay on St. Croix.
Astrid England, chairperson of the relay, in opening ceremonies said the theme is "celebrate, remember and fight back." But the storm rolled in around 6 p.m., prompting a flash flood advisory from the National Weather Service and leaving participants with water up to their ankles.
Before the downpour, though, the relay committee for the first time selected a royal family.
The king was Jovan J. Augustin, a 19-year-old senior at Complex who is a survivor of lymphoma that hit him when he was 13.
"I'm a new person, and I have a new perspective and appreciation for life that I have to live to the fullest," Augustin said.
Val Stiles, a 12-year survivor of breast cancer, was chosen as the Queen of the Relay. She said her oncologist told her two years ago he didn't want to see her again. She hopes people will see her as a long survivor helping to take the fear out of cancer. "It takes God, your doctor and yourself all working together to beat cancer," Stiles said. "And stay positive through it all."
Markicia James selected as the princess is 11-years-old and a survivor of Wilms' tumor, a kidney cancer that strikes one in 1,000 children. She said she wants to be an inspiration to other children, showing them there is hope.
England said so far $52,000 has been pledged. The top two Internet teams were Facebooking Striders and Curvalicious.
Fiona Stokes said the Facebooking Striders were a group of 59 friends on Facebook that get together and use it as social media network. "This has been a blast," Stokes said.
The Dominican and Friends for the Cure, Facebooking Striders and Super Heroes Against Cancer were platinum donors with each team raising $5,000 or more. Gold level was awarded for $3,000 raised by the teams Clowns With a Mission, Curvalicious and Scotia Bank. The Bronze level was awarded to Joslyn Jewels and Innovative for raising $2,500 each.
There were 41 teams registered to walk or jog around the track with at least one member on the track at all times.
There was a team from Delegate Donna Christensen's office, St. Paul's Episcopal Church, Hispanos Unidos, the V.I. Police Department, AARP, and more.
The relay is expected to wrap up at 4 p.m. Sunday. Donations may be made on line at the ACS Relay for Life website.