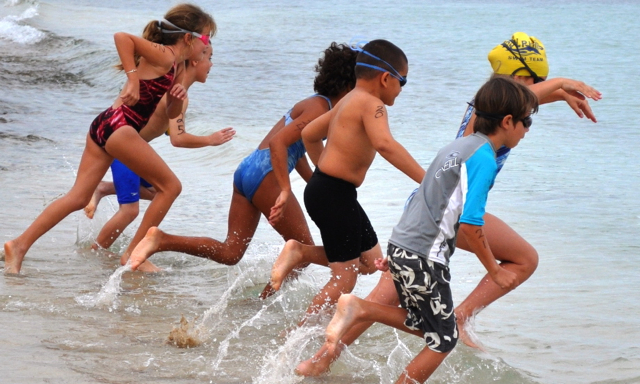 Sunday morning, 21 of St. Croix's youngest athletes raced through Cramer's Park to compete in the second youth triathlon and final race of the Kids' Tri V.I. race series.
With dark clouds threatening to overtake the race, the triathletes – ranging from ages 5 to 15 years old, swam, biked, and ran with speedy precision in the final race put on by the Virgin Islands Triathlon Federation.
"We are trying to develop young and talented athletes and possibly put them on the road to the Olympic path," said Scott Fricks, president of VITF and the race director.
The races began at 8 a.m. with four athletes from the youngest group (5-6 year old) diving excitedly in the water for the first leg of the race – a 25 meter swim. They then biked half a mile up the road, and ran the final quarter mile in the soaked park.
J.J. Klempen, who was in second place out of the water, overtook Charlotte Halk on the bicycle, and kept the lead to come in first with a time of 8:33, followed by Halk (9:42), leaving Odin Andrews to finish third at 10:36.
Next, the 7-8 year old group, comprised of six athletes, competed. They had to swim 50 meters, bike a half mile, and run a quarter mile. Natalia Kuipers jumped out of the water with a 35 second lead over Cooper Crowther, and won the race with a time of 7:42. Crowther clocked in at 8:06 and Rosa Willock finished shortly after with a time of 08:58.
Nine kids started off 9-11 age group race, in which they had to swim 100 meters, bike one mile, and run a half mile.
Chloe Phillip-Hayden, who had never raced in a triathlon before, had a commanding lead during the swimming portion, allowing her an easy finish in first place with a time of 10:07. Jett Blashka, who came in seconds behind Shawna Dean during the last race, sprinted during the final portion of the run, overtaking her to come in second at 10:57. Third place went to Dean, who collapsed as she crossed the finish line with a time of 10:58.
Kuipers immediately ran to Dean, and said with an empathizing look "Shawna, it's tiring isn't it? I nearly passed out when I finished."
The final race of the day had only two competitors in the 12-15 year old age group: they had to swim 200 meters, bike three miles, and run one mile. Adriel Sanes, who has won every race in the series this year, finished the season undefeated as he clocked a 23:25, followed by Jazmine Willock, who finished at 33:05.
The parents were excited and nervous throughout the races, cheering their kids on, ensuring they had water in between events. One father, George Willock, had four kids competing, one in each age group. He ran from event to event, following his kids with water and Gatorade as they moved throughout the race.
"I just really like to keep them active. At first they don't like it – they complain, but then they are glad they did it and want to keep exercising," he said.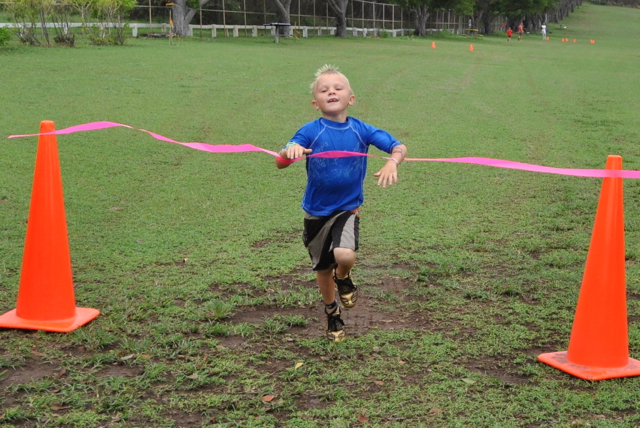 David and Alanna Morales, who had two kids competing, were happy their daughter, Phillip-Hayden, took first place in her first race. They said they had to bribe her with a new pair of shoes to compete because she's normally "a swim snob."
However, Phillip-Hayden, wasn't surprised she won because she knew she had an advantage on the swimming portion.
"My favorite part wasn't swimming though, it was the bike ride because it allowed me to catch a breath and the wind felt good," she said.
The races ended shortly after 9, with a small award ceremony, where the kids were given trophies, ribbons, and raffle prizes. Then Fricks presented a separate "enduring athlete" award to Dean and Sanes because they competed and placed in all six events.
"I really think this season has been hugely successful and I'm pleased with the participation and turnout. This was our first year, but because it's been so great, we're definitely going to do it next year," organizer Theresa Harper said.
For more information about VITF and to see footage on the other four races of the season, please visit www.vitf.org, or call Harper at 513-2707.