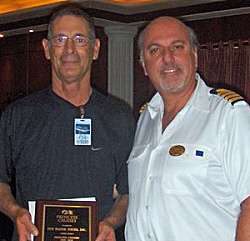 Jim Trilling didn't hesitate for a moment Friday when asked why his "Turtle Cove Sail & Snorkel Tour" had won Princess Cruises' "Low Volume Tour of the Season" for the 2010/11 season in the port of St. Thomas.
"Best crew, best boat, best tour, best captain," he said, the accolades gliding off his tongue like butter off a hot knife.
At a shipboard ceremony aboard the Carnival Princess, docked at the Crown Bay terminal, Trilling was presented an honorary plaque by Capt. Marcos Fortezze, who congratulated him with big smiles, telling him how much his passengers enjoy the tour.
Trilling is a veteran. "We've won the award nine or 10 times before," he said, still beaming at the honor bestowed on him. Trilling gave full credit to his crew.
"It's all the crew," he said. "They do everything."
And, apparently, they do it well. Capt. Joe Morgan (yes, Captain Morgan like the rum) is no stranger to honors himself. "We got best tour guide for the 2010-2011 season," he said.
He said the secret is working well together. "It's a four-man crew – my core crew is Boomer Hough, Rebecca Lee and Billy Galloway."
Morgan captains St. Thomas's newest sailing catamaran, "The Cat." She is a commodious 54 feet long with a 29-foot beam, and accommodates up to 80 passengers. The tour takes cruise ship passengers as well as hotel guests, and anyone else with a hankering for a bit of fresh air adventure on a luxurious catamaran.
The tour is about three and a half hours, with 90 minutes in Buck Island's Turtle Cove, where marine life abounds: resident green sea turtles, grazing on the green sea grass, and tropical fish feeding on coral reefs.
Trilling, who is from Chestnut Hill, Mass., has been here on and off for the last 30 years.
Not unlike many who have made the island their home, Trilling got here through a bit of serendipity. "I spent six years building a sailboat, and I was headed to Greece when I got caught in a storm and took refuge here."
The storm passed lo these many years ago, but Trilling's accidental arrival at an unplanned piece of land has worked out well.
He still travels, spending part of his time in Massachusetts, and the rest on island. Some would say that's an enviable way of life.
The boat is at Yacht Haven Grande marina; phone 775-7245.