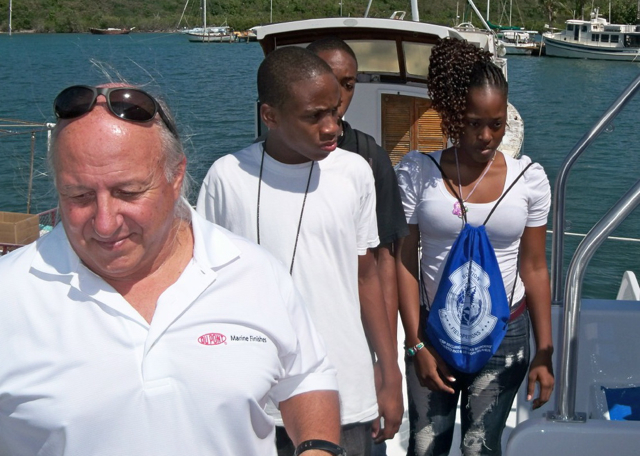 Youth from the First Assembly of God Church in Christiansted had a day off from public school Friday so they spent their time looking into local career opportunities.
High school-aged students visited the Salt River Marina to check out the latest boat being built by Gold Coast Yachts as part of a church-sponsored career activity. The 11 students toured a catamaran tied at the marina dock as boat builders working on the vessel showed them what their jobs are like. The students also toured the Gold Coast Yachts facility at the Roebuck Industrial Park to see where the parts for the boats are fabricated.
"It is important for the students to see what is built on St. Croix and the job opportunities," said Rich Difede, owner of Gold Coast Yachts. "This tour shows them jobs other than what they have been exposed to in the past."
Difede, said he offers this type of tour about once a month
During the boat tour the students asked about summer employment at Gold Coast. They spent the morning at Henry E. Rohlsen Airport and the National Guard Aviation Facility at the airport checking out some different job possibilities in aviation.
Church member Sheldon Nicholas, in naval aviation, spearheaded this first career awareness weekend. The program started Thursday evening with the students attending a career empowerment night at the church, at which 11 parishioners described their jobs as teachers, firefighters, real estate agents, U.S. Customs and Border Protection agents, and entrepreneurs.
Saturday they will build and launch rockets at the University of the Virgin Islands.
"We have made it our mission to enlighten kids getting them ready for their future globally and spiritually," said Rosemond Creighton, church events coordinator and a guidance counselor at John H. Woodson Junior High School. "We want to spark interest in the students. The more they see, the more they broaden their horizons. They must have a balance to be ready for what is out there in life."
"This was great getting a chance today to learn about all the local job opportunities out there," said Kenrick Campbell, a sopphomore at St. Croix Educational Complex.