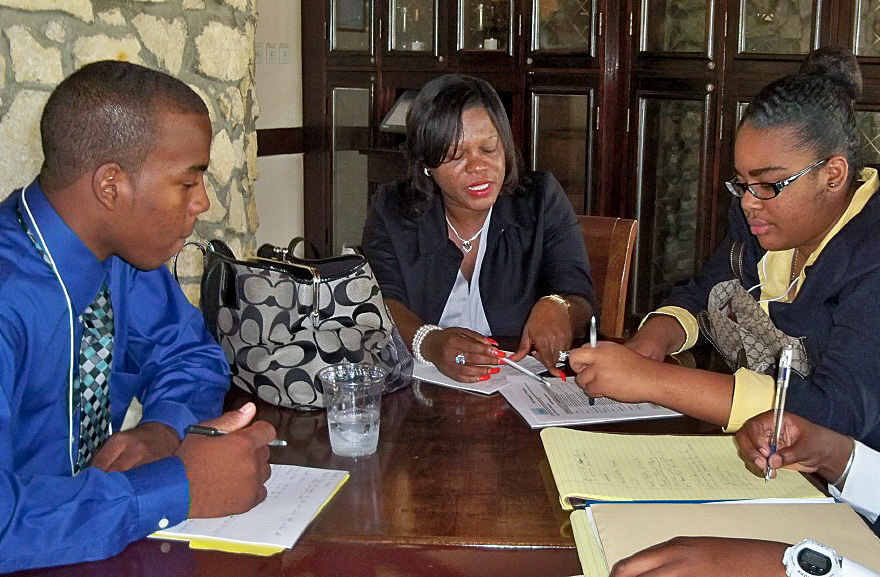 Youngsters across the territory got a taste of life as business people Saturday, attending workshops, listening to presentations and giving speeches, but they also got a feel for the pleasurable side of business activities.
They were attending the Virgin Islands Future Business Leaders of America State Leadership Conference in the comfortable atmosphere of the Renaissance St. Croix Carambola Resort & Spa.
Cecilia M. Smith, V.I. State Committee Chairman, said 80 junior and senior high school boys and girls attended the 33rd conference Friday through Sunday. There were 26 students from Charlotte Amalie and Ivanna Eudora Kean High Schools on St. Thomas, and 54 students from St. Croix Central and Educational Complex High Schools, and Elena Christian, John H. Woodson and Arthur A. Richards Junior High Schools.
The kids were attired professionally too in shades of navy blue and gold.
Anthony Parascondola, FBLA Eastern region vice president and senior at Piscataway (N.J.) High School, conducted a workshop titled "Passport to Progress" a national program to promote active membership. The students broke out into groups and brainstormed on how to increase visibility, promote FBLA, and increase membership.
The students took part in competitive tested events doing proofreading, business communication, accounting, business law, computer applications and more.
Students went to Woodson Junior High School for a workshop on computers. They also practiced doing job interviews.
Collin Palmer, Charlotte Amalie junior and candidate for recording secretary, said the conference taught him about teamwork, getting organized and even sharing a room. "It was really nice to meet so many amazing business-minded people," he said.
The students running for office opened campaign booths and gave speeches. There was a meet-the-candidates cookie break-happy hour and elections followed. In the evening the 40th Anniversary Rainbow Ball was held.
Adrian Gillem, FBLA recording secretary and senior at St Joseph Catholic High School, said the conference instructed him on personal confidence, public speaking, teamwork, and overall leadership skills. "The leadership atmosphere has been phenomenal," Gillem said.
Sha-Quan Joseph, district vice president and a junior at Complex, said it was great to be at a conference with other students who have an interest in business.
The conference opened Friday with introductions, awards, guest and student speakers and quelbe lessons.
Keith James, executive council member, professional liaison and member of FBLA since junior high in 1989, said, "In FBLA students learn how to be part of a team. They learn to collaborate and negotiate as a professional."
From now until June, the students will be preparing for the national competition in Orlando, Fla., with students from the U.S. Maria Thomas-Lewis, V.I. FBLA State Adviser, said 55 local students will be competing against "the best of the best."
Thomas-Lewis said more promotion of FBLA needs to be done in the schools and more parents need to encourage their children to join.
"Parents need to realize what FBLA means for their child's future," Thomas-Lewis said. "We need brilliant minds."
FBLA is funded by a Department of Education Grant, but they are looking for sponsors to help promote the organization, Thomas-Lewis said.
March of Dimes is the national nonprofit the students are encouraged to give to. In March they held a March of Dimes walkathon with proceeds going to buy a new electric stove for Ten Thousand Helpers men's homeless shelter. FBLA members also support the Dorothy S. Walcott Scholarship Fund.
For information on the local FBLA Chapters or to become a sponsor, call Thomas-Lewis at 643-0077 or Florisel Welsh at 513-0835