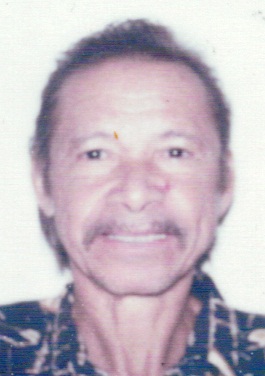 Ramon Ramos, also known as "Juni," of Hospital Ground, Christiansted, died on Wednesday, March 30, at his residence.
He is survived by his sisters: Josefina and Maria Ramos; brothers: Reynaldo Lopez, Jimmy, Inez, Pedro, Jose and Justino Ramos; nieces: Alison J. Ramos, Minelva Iris Acosta, Adrianne C. , Miriam, Clarissa and Lisa Ramos; nephews: Lawrence Douglas Ramos, Pedro Juan Jr., Daniel Ramos, Juan A. Acosta, Edgardo M. Acosta and Benito Acosta III; great nieces: Shakima I. Simon, Ayanna, Imani, Nzinga, Jahsiah, Nya and Naiomi Megan Acosta, Daniella Daniels, Stephanie and Susana Nieves and Aaliyah M. Alibocas; great nephews: Leslie V. Pemberton Jr., Devaughn Acosta, Dewayne Daniels, Pedro Ramos Jr.
and Daniel Nieves Jr.; aunts: Hermina Encarnacion, Porfiria L. Rhymer, Paulina Ramos-Cabret and Benita Solis; uncles: Pepe Solis, and Salustiano and Saturnino Ramos Jr.;
He is also survived by cousins: Juan, Jose, Gilberto, Rafy, Miguel, Roberto, Aracelis and Antolina Encarnacion, Milagro Solis, Jose, Rosie, Margo, Ricky, Davy, Faith,
Normy, Miguel and Virgil Solis, Patsy, Georgie, Fefe Tony, Mikey and Melvin Rhymer Jr., Carmen Vinding, Nilda Bradley, Lucia and Jusel Morales, Catalina Isis, Wagner Jr., Hanc, Christina and Olga Larsen, Alex Lequillo, Delia Cabret, Kevin Hrabal, Deidre H. Mercer, Carmen and Luis Cordero, Johnny, Delia, Lucy and Tita Pimentel, Johanna Willie, Linda L. Peters, Vilma Singh, Yvette Cruz, Cresenia Evelyn, Rey Ramos Jr., Joly, Jimmy and Saturnino Ramos Jr., Carmen Fuentes, Maria Towers, Hilda, Marco A., Marisela, Carlos, Miguel and Julio Gonzales, Erica and Eric Barnes Jr., Wilbur Francis, Leila Knox, Mitsu Naar, Rena Colon, Robin Frederik, Rosalia and Roxanne Walter, Laisha Malik, Jose and Jessica Solis, Carmen and Carlos Fuentes, Alex Jr., Robert and Lisa Lequillo, and the Santiago, Encarnacion, Ventura, Solis, Acosta, Felix, Pimentel, Ayala, Adams, Gonzalez and Nieves families; special friends: Ronald Michael, Luz Quinones, Israel Miranda, Mercedes, Miguel and Lourdes Bazz; godchildren: David Moore and Eddie Benitez Jr.; as well as other relatives and friends too numerous to mention.
There will be a viewing at 10 a.m. and a funeral service at 10:30 a.m. on Wednesday, April 13, at Holy Cross Catholic Church. Interment will follow at the Christiansted Cemetery.
All arrangements are by James Memorial Funeral Home Inc.