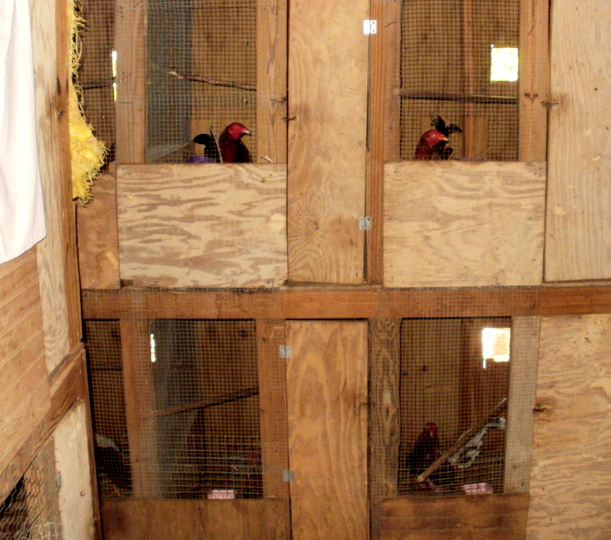 Police on St. Thomas discovered almost 50 fighting chickens while conducting a pre-carnival cleanup of Hospital Ground near Jah Yard.
The owners of the chicken farm, located on an empty lot, were given 30 days to remove the animals from the property.
Police partnered with the Department of Public Works and Department of Planning and Natural Resources in the cleanup.
The chickens were heard crowing during the work. They were found in their own spacious coop with water and food nearby. Police said they found obvious signs that the chickens were used for fighting.
St. Thomas Deputy Police Chief Dwayne DeGraff said the fowls posed a health hazard for the community because the noise creates a disturbance for residents in the area.
Police had previously cleaned the area last April. Since then residents said there has been an obvious decrease in such criminal activity as drug dealing and loitering. On Wednesday officers found a few empty ziplock baggies used to store drugs.
DeGraff said the cleanups were necessary because neighborhoods that are subjected to criminal activity see a decrease once the area is improved.
The police also launched its third consecutive "Rain Won't Stop the Carnival, But Violence Will" public safety campaign. The campaign includes heightened awareness through public appearances by police officers offering safety tips and partnering with local DJ's to spread the message of a safe carnival.
Part of promoting community safety during Carnival 2011 includes constant communication with the Carnival committee. On Tuesday St. Thomas Deputy Police Dwayne DeGraff and other VIPD officers attended a meeting at carnival headquarters and discussed the department's initiatives with booth owners. This meeting was an opportunity for those involved in carnival to exchange ideas and offer solutions to commonly faced problems.
Deputy Chief DeGraff noted that in the past there have been confrontations between booth owners and patrons. He urged the group to immediately contact police if they get involved in any disputes or see acts of violence occurring at the village.
To curb underage drinking, DeGraff reminded booth owners not to serve alcohol to minors no matter the circumstances. Booth owners are required by law to ask for the identification that shows proof of age from anyone who looks younger than 30-years-old.
Sgt. Sherry Ann Hughes told the group, for the safety of the public they are only allowed to load and unload their vehicle at certain times. Corporal Michelle Potter spoke about the procedures to acquire various permits and asked vendors to contact the Chief's Office at 715-5548 for further information.