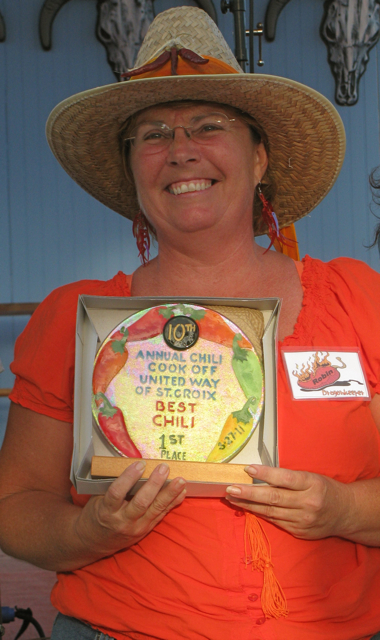 The day was warm but the chili was hot as 16 cooks competed Sunday at Divi Carina Bay Beach Resort, vying for the top honors at the 10th Annual United Way of St. Croix Chili Cookoff, with the winner earning the chance to move on to the Terlingua International Chili Championship this November in Texas.
Locals were cooking against others hailing from as far west as Oregon and as far east as Germany, but they all came together as a chili community to raise $15,000 for the United Way. The money will benefit the Bethlehem House, Catholic Charities, Boy Scouts, Men's Coalition, Legal Services and the Civil Air Patrol.
"You're not a chili cook until you share everything – except your recipe," said Georgeann McNicholas, who has been making chili for 37 years and finished second in Sunday's competition, her best finish ever.
The winners were decided by a secret panel of 12 judges who conducted a blind taste test. The chili came to the judges with no names attached and there was no way to know to whom it belonged. The judges made their decision based on five criteria from Chili Appreciation Society International: aroma, consistency, red-color, taste and aftertaste. Contestants were allowed to use different kinds of meat, but 300 pounds of certified Angus Beef were donated to the cause.
This year's winners were Robin and Dieter Becker with their Dragon's Breath chili. This was their first chili contest after competing in three previous rib cookoffs on St. Croix. They said their secret was shopping for chili spices online.They found the right combination the first time out and are going to laminate the winning recipe.
"This is a fabulous event, it's fun for everybody and it is all for a good cause," said Robin Becker, who's tent also won third place for showmanship category. When asked for some chili cooking advice she had this to say, "Take it slow with the spices because more can always be added and when you think it is good, stop."
She and husband Dieter will now compete in Texas, representing St. Croix in the international competition this November.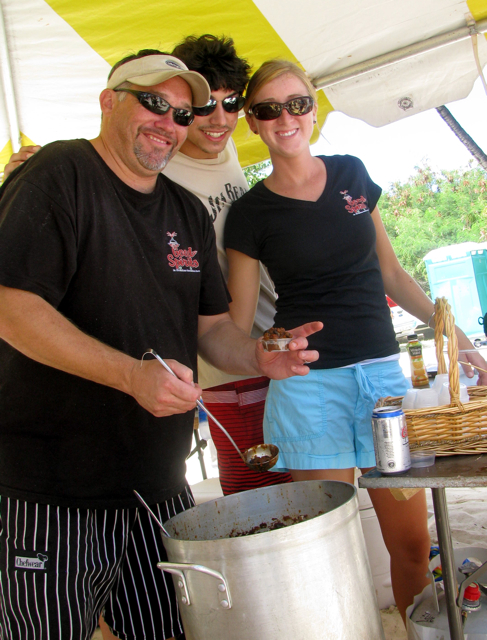 Tip Top Construction finished third, rounding out the top three.
Along with the cooking competition, entrants also vied for the showmanship award, decorating their tents and themselves.They were judged on their booth, costumes, theme, audience participation and audience appeal.
Tip Top Construction won first place with its wooden construction manequins Richard Belliveau made last week.
"We love competition," he said.
Joanne White, Sunni Benoit and Michele Grocholski won second place in showmanship as they all dressed up like Elvis, playing blow-up guitars and singing a chili song at their "Love Me Tender" booth.
"We do it about every year and we just enjoy it," said White, who wrote the chili song.
The winner for the vegeterian chili, Cheri Bryan, won the entire chili cookoff last year, but only finished eighth this time around.
Cooks were at their creative finest as some made basic chili and others experimented with ingredients not usually associated with this food.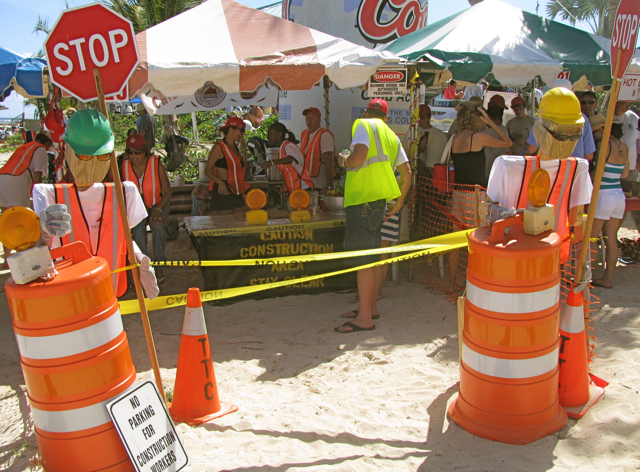 Bling Bling Chili creator John Carter added a dark chocolate bar to his batch, but he did not place in the top ten.Ryan Ellison, who arrived on location at 6 a.m., was the most enthusiastic participant and added Guinness beer to his Horny Goat Chili.
Island Fyah had the spiciest chili of the day, as Don Pogue put in a habanero pepper to his mix. Richard Biffle, who said he hasn't competed in a cookoff since 1976, called friends back in Texas for chili cooking advice. Local hot sauce makers Monica and Wade Whitten flavored their chili with some Island Fever and were able to take home 10th place in their first competition.
Country music acts including Jamie O'Neil, Bombshell and Chuck Wicks, had the crowd dancing until the event ended at 10 p.m.
The Department of Agriculture donated the event tents and the Department of Public Works built the performing stage. The V.I. Police Department was on hand making sure the event ran smoothly.