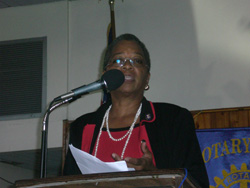 After what she called one of her most difficult decisions since entering Congress 14 years ago, Delegate Donna M. Christensen announced Wednesday that she was resigning her position on two committees to return to the Energy & Commerce Committee, the oldest and one of the most influential committees in the House of Representatives.
Christensen made the announcement in a telephone press conference Wednesday afternoon, saying the new assignment will give her a wider range in which to look after the interests of her V.I. constituents.
Christensen served on Energy and Commerce the past two years, along with posts on the Homeland Security and the Natural Resources committees. Energy and Commerce, along with Appropriations and Ways and Means, is an "exclusive" committee, which means a member of that panel cannot sit on any others without a waiver. Christensen was the first Congressional delegate from the territories to be appointed to the panel and received waivers to remain on her other assignments.
She said it had been a goal of hers for at least the previous four years.
But when the Republicans retook control of the House in the November elections, the math changed. Seats on committees are apportioned based on a party's percentage of the total House, and the incoming GOP leadership decided to slightly reduce committee sizes. That meant that there were fewer seats to be apportioned to the remaining Democrats.
There was a space on Energy and Commerce for the 23rd ranking member, and Christensen was the 24th. So when the 112th Congress convened in January, she was on Homeland Security and Natural Resources, but not the more prestigious assignment.
But she didn't give up hope of returning, she said, and when Democrat Jane Harman from California announced in February that she was resigning from Congress to become head of the Woodrow Wilson International Center for Scholars, her opportunity arose.
But this time there was no waiver, at least not yet, she said, and the choice she mulled over for two weeks was whether to keep her current committee assignments or move to Energy and Commerce. She consulted friends and colleagues both in the nation's capitol and at home in the territory,
"This was a very difficult decision," she said. "Initially I was thinking of going in the exact opposite direction … but Energy and Commerce is such an important committee of the House of Representatives, I would be doing a disservice to the people of the Virgin Islands to have not taken this seat."
She added that there were several Democratic colleagues right behind her in line who were hoping she wouldn't take it so that they'd have their own shot.
"It's one of the most prestigious committees in the house, the oldest standing legislative committee," she said.
Established in 1795, the committee's responsibilities include legislative oversight relating to telecommunications, consumer protection, food and drug safety, public health, air quality and environmental health, the supply and delivery of energy, tourism, and interstate and foreign commerce in general. According to the committee's website, its jurisdiction extends over five Cabinet-level departments and seven independent agencies.
"It gives me an opportunity to represent the Virgin Islands in ways I could not on Natural Resources," she said.
Natural Resources is the traditional assignment for delegates from the territories, since its purview includes Insular Affairs. Christensen has served on that panel since her first election to Congress. She said she will continue to be active on issues of concern to her constituents that come before that panel.
Her committee assignments include telecommunications, which will put her in the center of the "net neutrality" fight and oversight.
And moving forward she has not completely given up hope of returning to Natural Resources. But that won't even be possible until all the dust has settled from the rearranging of committees and all her Democratic colleagues are satisfied with their own assignments. If at that point there is still an opening on Natural Resources, Christensen said she has made it clear to the minority leadership that she wants it.