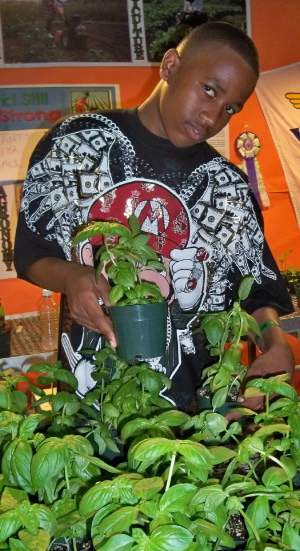 A bumper crop of healthy and fresh fruits and vegetables greeted visitors to the Donna Samuel Farmers Market Sunday for the 40th St. Croix Agrifest.
The theme this year is "40 Years and Still 'Growing' Strong." Errol Chichester, deputy commissioner of agriculture and director of crop exhibits, said the crops grew stronger than ever this year. He said in his 25 years of involvement with the fair, this was the most produce he has ever seen in the farmers market.
He said after the heavy rains in the fall, some people were concerned and thought the board should push back the date of the fair.
There were plump red tomatoes, shiny purple eggplants, bright green peppers, brilliant orange pumpkins and much, much more, all tastefully displayed at more than 50 vegetable vendor booths.
The St. Croix Hibiscus Society had beautiful fresh cut hibiscus in colors out of this world. There were pretty purple orchids from Puerto Rico. At Dorcas Griffen's plant stand there were huge hanging baskets of red begonias and lush green ferns.
The top winners in the ornamental plants were James Simons in first, Dorcas Griffen second, and Grantly Samuel third.
"I am very grateful for getting third place," Samuel said . "The judging is tough and competition is too."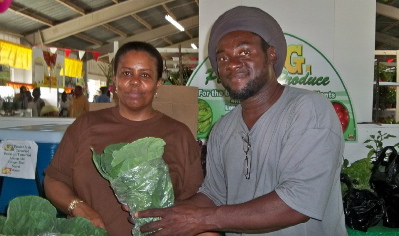 In the crops category first place went to Dale and Yvette Browne. Taking second place was the V.I. Farmers Cooperative, and third went to Rosalia Drew.
The grand champion winners were Dale and Yvette Browne, owners of Sejah Farm of the Virgin Islands, where they raise crops and livestock.
"This shows what is possible in the Virgin Islands," Dale Browne said. He said local produce can be better than imported.
About 30 booths from schools and youth programs had environmentally friendly and healthy lifestyle themed displays.
The big sweepstakes and first place winner for high school education displays was the electric car made in a three-year project at St. Croix Career and Technical Education Center.
The restored aqua blue Chevy Cavalier with shiny chrome rims is now a refitted environmentally-friendly vehicle. The students were excited Sunday, telling about giving rides to Gov. John de Jongh, Lt. Gov. Gregory Francis and Delegate Donna M. Christensen. The carpentry class made a donkey cart to contrast then and now with the electric car.
"We feel good about getting a perfect score in the judging," said Felix Herman Jr., a junior at CTEC.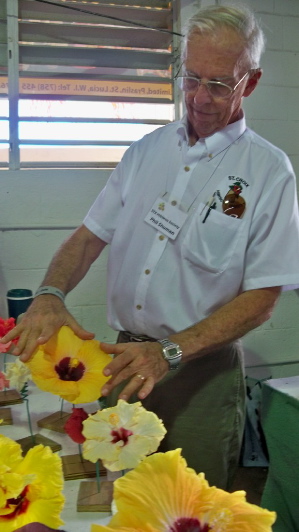 Assistant Principal Joseph Schrader said with the right support the students can do anything they want.
"This is not just a project it is a whole process with academic skills too," Schrader said. "And they are enjoying themselves while learning."
Eulalie Rivera Elementary School took first for elementary school education display with a healthy and inviting looking patio garden. They a bright pink and turquoise colored theme throughout the booth as in painted cans recycled into planters.
The students at John H. Woodson Junior High, under the direction of Roberto James, took sweepstakes and first place in junior high education displays for their produce production. The students grew and sold potted herbs, lettuce, bok choy and beets. They also do composting and make the planters in class.
"I now know growing our own food is healthy," said Ajahni Matthis, a Woodson seventh grader. "And we learned how to generate profits and conserve land."