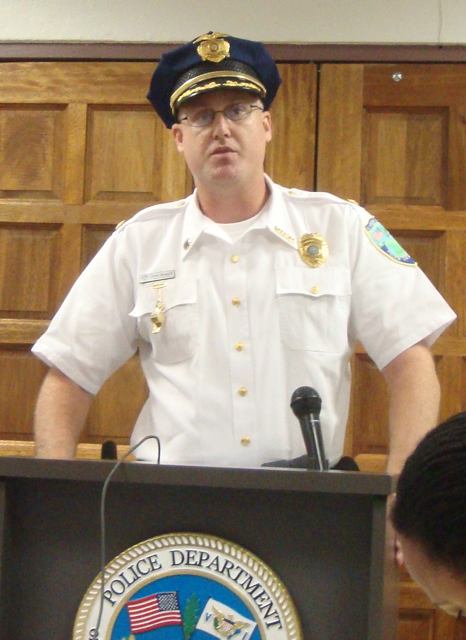 Newly appointed St. Croix Police Chief Christopher Howell plans to follow a "Broken Window" strategy in reducing crime in the St. Croix District, according to a VIPD statement released Wednesday.
On Friday, Howell was named chief effective Monday, replacing Chief Oakland Benta who was named director of the V.I. Police Training Academy. Howell had been deputy chief on St. Croix since April 2009.
Howell first outlined the "broken window theory" Monday when explaining why police had seized more than 1,000 bootleg video from street merchants.
"Although this is not a life-or-death issue, it is yet another example of the 'Broken Window Theory,' which points out that if law enforcement tolerates the small crimes, larger crimes will continue to flourish," he said about that case.
In a statement Wednesday, he expanded on the theory in explaining to island residents how he hopes to combat crime. The Broken Window theory, Howell said, "dictates that police officers must actively enforce all laws, even the most petty. This sends a clear message that the police department and the community will not tolerate crime and disorder."
The theory takes its name from the research that shows that if vandals break a single window in an abandoned building and the window goes unfixed, the building is much more likely to have additional windows broken and be the target of additional vandalism.
"The research further shows that if that single window is repaired in a timely manner, it is a symbol that someone is aware of the problem, and is taking steps to fix it. As a result, the building is much less likely to be the target of further vandalism," Howell continued.
"Likewise, if a law enforcement body allows petty crimes to exist, it is sending a message that they are accepting of criminal activity, and that unchecked criminal activity will continue to escalate."
Howell said the theory has been tested in communities worldwide since the mid-80s with widespread success. Major cities have seen as much as a 65-percent reduction in major crimes after just one-year enforcement, according to the new chief.
"The Broken Window theory can and will work in the Virgin Islands. However; it will take commitment of the entire community, to make this change toward a safer way of life," he said.
"By implementing this strategy I am following the mandate of Police Commissioner Novelle E. Francis Jr. directed toward improving police community relations," he added.
"I am aware that some people in the community may not appreciate the police force enforcing zero tolerance on all crimes," he said. "However, I am confident that the majority will recognize that as we employ this strategy, the incidences of murder, assault, robbery, burglary and rape will reduce in this community."