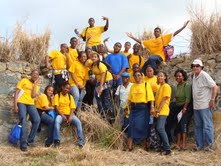 Educational Outreach with the St Thomas Historical Trust: Hassel Island is the St Thomas Historical Trust's to manage in partnership with the V.I. National Park Service. The chair of the Hassel Island task force is board member Charles Consolvo. It is his passion to see the fort stabilized, trails cleared, research done as well as to give tours to schools and organizations. In December, he took the 9th grade (Ms. Osborne's class) from the Seventh-day Adventist school over.
On Feb. 11, the trust hosted a tour of Hassel Island for some supporters. The tour included Creque Marine Railway, Careening Cove and the Garrison House and Prince Frederik's Battery on the southeastern point of Hassel Island. On Feb. 26, he will lead the Rotary Clubs of St Thomas Sunrise and East and their Interact Clubs (high school) on a tour, to be followed by a cleanup. If asked in advance, Consolvo will gladly take his time to show the island. He asks that there be a donation to the trust; there will be a fee for boat transportation.
Did you know…
that the trust has a museum (real estate donated by Roy Anduze) located on the western edge of Roosevelt Park? It is open Monday through Friday from 10 a.m. to 3 p.m. and staffed with volunteers. There you will find furniture on loan from Alton Adams, the Langford Estate, Philip Sturm, Felipe Ayala, Ronnie Lockhart and Mike Sheen. Also, there are other items donated by Charles Consolvo, Joanne Bozzuto, Mike Sheen, Ronnie Lockhart and others. Historic photos, furniture, paintings, china and artifacts abound. Call the trust at 774-5541 for more information.
The next lecture in our series will be "A Conversation About UP STREET" with Myron Jackson and others from We From Up Street. It will be hosted on at 3 p.m. on Sunday Feb. 27, at the V.I. Council on the Arts on Norre Gade. The cost is $5 for members and $10 for nonmembers.
Our mission is to identify, protect, and preserve the historical identity, structures, sites and cultural heritage of St. Thomas through education, advocacy and promotion.