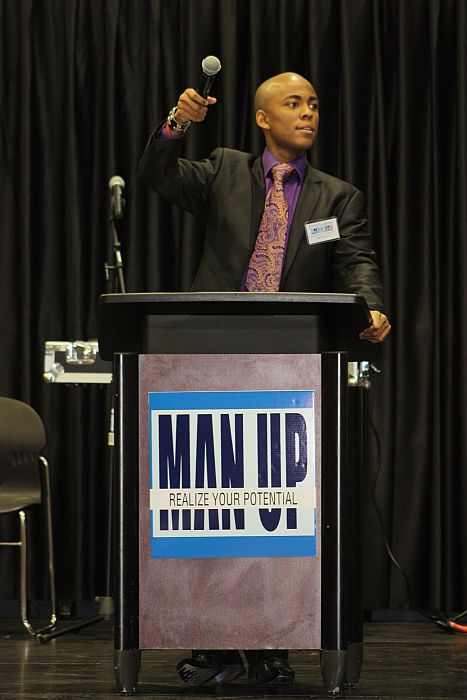 From children to men, from Red Hook to Bordeaux, this year's first ever "Man Up" conference at UVI's St. Thomas campus taught its participants that no matter how old they are or where they're from, they can always achieve their dreams.
"We are at a critical moment in the life of the Virgin Islands," UVI President David Hall said to a gym filled with 1,500 middle and high school students, their teachers, family and friends. "You know what is happening all around us — the violence, the killing and the drugs — are threatening our lives and our future; and this gathering is here to remind you there is a better way."
Hall talked to the students about their untapped potential but told them that the road to success isn't easy. He said the day's gathering had brought together a group of speakers to teach them about the different aspects of being a man.
"We want you to leave here with a better understanding of what it means to be a man, because you man up from the inside, not from the outside," he said. "Being a man does not depend on how physically strong you or, or on how many girls you can convince to go to bed with you. Being a man is about how responsible you are — it is about how you use your mind, heart and spirit to care for those around you. Being a man means that education is not just something that you do, but that it is a pathway for your success."
He said that UVI has a seat for each one of them, if they want it, but stressed that the choice is ultimately theirs.
"This is not just a day away from school," he said. "This is a day that could change your life."
The conference speakers focused on four specialty areas — athletics, spirituality, entrepreneurism and entertainment — that organizers thought would interest and inspire the students. Headlining the conversations was Theron and Timothy Thomas, the award-winning Rock City, who spoke about their trials and tribulations growing up.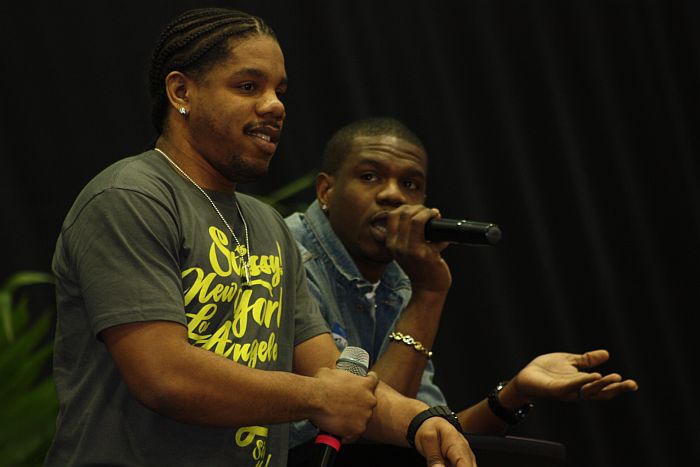 The Thomas brothers spoke about growing up in the housing projects and recounted how their father, a garbage man at the time, brought their first bed home from the dump. The brothers said they weren't upset and explained that it wasn't about where the bed came from, they were just happy their father cared enough to bring it home for them. Stressing that it was always, in their family, the little things that mattered, the brothers said that when they got their first $30,000 check, they didn't use it to buy for a brand new car or clothes, but a house for their parents.
And in talking about their rise from "being broke," they told the students that everyone in the room had the potential to change their cycle.
That message was also the theme of the conference's keynote address, which was delivered by 26-year-old Farrah Gray, who made his first $1 million at the age of 14. Gray grew up on the south side of Chicago and was always told that he and his family were too poor for them to become anything — but that didn't stop him. After his mother suffered a heart attack brought on by the stress of working three jobs, Gray took it upon himself at the age of six to start his first business: he painted rocks and sold them on the street.
"I would paint them and ask people, 'Would you like to buy this,'" he said. "And people would ask, 'Isn't that the rock that was right in front of my door?'; and I said 'Yes,' and it was a business."
Gray went on to create a pancake syrup company, Farr-Out Foods, and by 14, made his first million. By 15, he sold the company, and made his second million.
Today, Gray is the owner of a publishing company and the author of multiple books. He told the students some of the keys to success, including surrounding yourself with positive people and never letting the public's misconceptions of who you are bring you down. He also said that each person is born with a purpose, or skill — something they can do better than everyone else; and the key to finding their niche lays in the answers to three questions:
– What comes easy to me, but harder to other people?
-What would I do and do it for free? and
-How can I give back?
"It is important to give back to your community," Gray said. "There are a lot of successful black people out there, a lot of young men that aren't doing that. Remember, it's easy to make a buck, but much harder to make a difference."
Many of the students said they had taken Gray's message to heart, and were inspired by his success.
"Listening to him talk, I learned that as brothers, we can accomplish a lot as long as we put our minds to it and be strong," said Lashawn Williams from Bertha C. Boschulte Middle School. "Before the conference, if someone asked me what 'man up' meant, I would have said it meant for me to handle my own business and solve my own problems. But now, I think it means that I need to take my responsibilities seriously and turn my problems into accomplishments."
While Williams said he now dreams of becoming a businessman like Gray and others in his family, Ivanna Eudora Kean high schooler Alejah Corbett said that he wants to become a lawyer.
"From this, I learned that instead of fighting each other, we should be one with each other and not try to kill one another because it doesn't make any sense," Corbett said. "So I want to take responsibility for my life, I want to keep my grades up and I want to really achieve my goal."
Attending the conference was mandatory for many of the local junior high and high schools, according to conference organizers. The conference will move to St. Croix on Thursday. Other conference speakers include Pastor Dexter Skepple, founder of Speak the Word Christian Ministries, and retired National Football League player Donovin Darius.
The conference is an initiative of "Brothers With a Cause," a UVI program started by Hall that provides young men with the tools and resources they need to graduate. The conference is sponsored by V.I. Lottery, FirstBank Virgin Islands, the Department of Human Services Division of Family Assistance, the West Indian Company Ltd., and the College Access Challenge Grant Program.