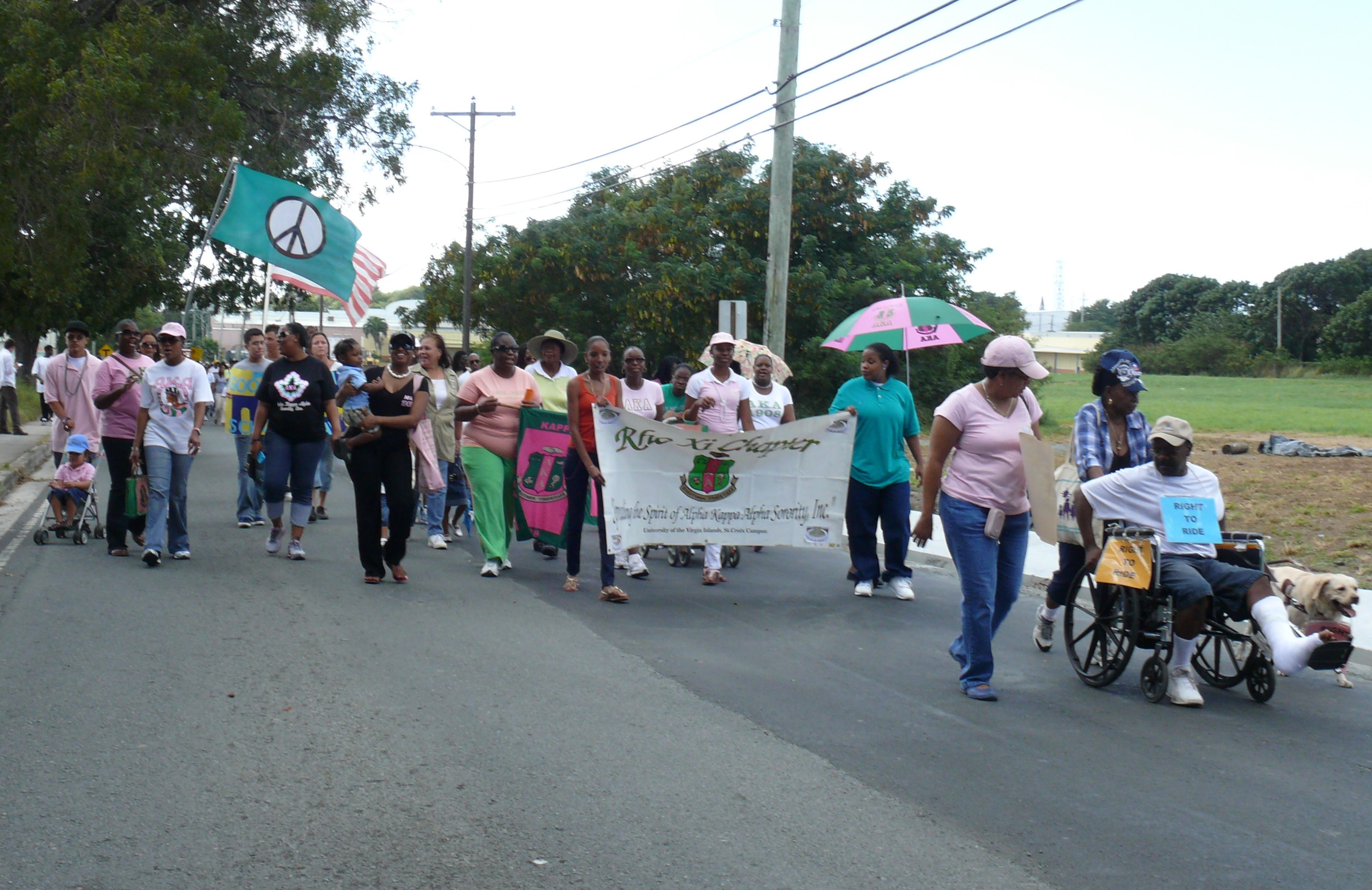 Marching band drums beat the sunny air as hundreds took peacefully to the streets of St. Croix Monday, marching in memory of the legacy and the spirit of the late Rev. Martin Luther King Jr. on the occasion of his birthday.
Police cars with blue flashing lights cleared the way for the marchers and the St. Croix Central High Army JROTC Color Guard led the parade, followed by JROTC drill teams and marching band.
Then came marchers in T-shirts of the St. Croix Central Labor Council, which has organized the annual march and rally for the past 18 years.
King's unmistakable baritone voice rang through the air above the jubilant crowd, pouring from speakers atop a pickup truck recruited for a new use after this fall's political campaigns.
Riding shotgun, CLC chairwoman Antoinette Rampersad had a CD of King's many famous public addresses; and Monday afternoon, the marchers on St. Croix heard his May 20, 1965 address to the American Jewish Committee.
"With this faith we will be able to hew out of the mountain of despair, the stone of hope," King's voice declared authoritatively. "With this faith we will be able to transform the jangling discords of our nation into a beautiful symphony of brotherhood. With this faith we will be able to speed up the day when, in the words of the prophet Isaiah, 'Every valley shall be exalted, and every mountain and hill shall be made low; and the rugged shall be made level and the rough places a plain; and the glory of the Lord shall be revealed, and all flesh shall see it together.'"
U.S. Steelworkers Local 8526 "Women of Steel" showed up in force, as did other labor organizations.
The St. Croix Federation of Teachers made a strong showing, too. That union had announced plans for a protest over delayed wage increases during the annual march, but there did not appear to be any signs protesting pay.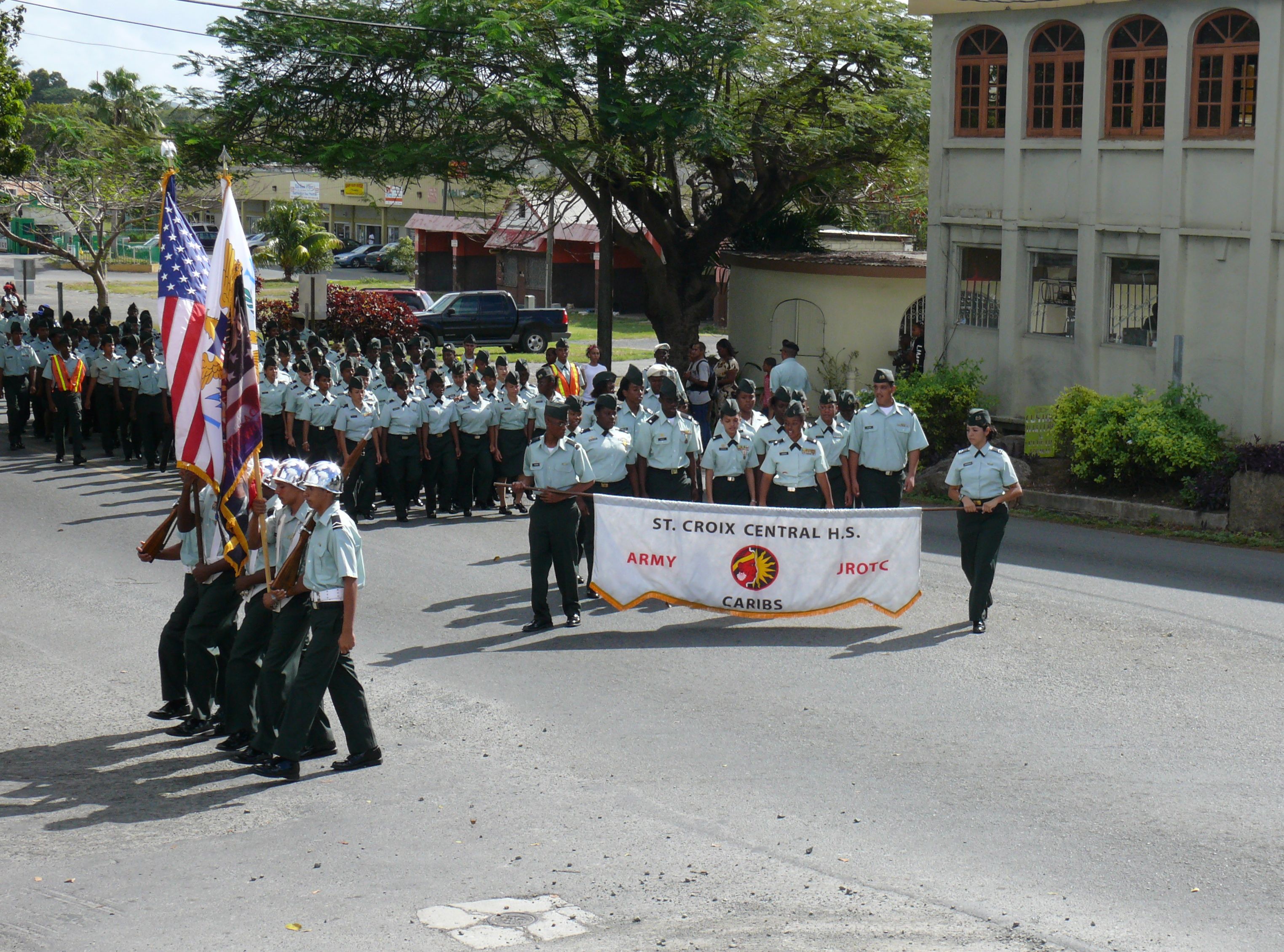 Girl Scouts, Boy Scouts, the Masons Paradise Lodge No. 170, Boys and Girls Clubs of America and fraternities and sororities, like Alpha Phi Alpha and Zeta Phi Beta, were out in force, too, marching behind their chapter banners.
Senate President Ronald Russell marched aside his wife Royette, the two beaming wide, warm smiles at the crowd. Sen. Terrence "Positive" Nelson marched too, and later would speak to the crowd.
The whole throng joined together, strolling down Queen Mary Highway past Sunny Isle and up Claude A. Benjamin Drive to across from Island Center.
The ceremony was shorter and less elaborate than most years and held at a temporary stage across the street rather than in its usual Island Center venue.
As with the government budget and private business ledger sheets, there was less money available this year than in years past, Rampersad said. Her daughter Eliza Rampersad, a recent UVI graduate, led the ceremony.
CLC President Joseph Gumbs spoke to the crowd briefly, recalling that King fought not only for racial equality but for the rights of all workers.
"When Martin Luther King died, he was there that day in support of sanitation workers on strike," Gumbs said, asking why there were not more union members marching and chiding that union members need to pay close attention right now.
"We have a shortfall in our budget this year; and if we're not careful, odds are it will be balanced on the backs of the working people," he said.
Nelson spoke of King's message of unity and progress.
"We have come a long way since his time," Nelson said. "But there is still a lot to do. We see greater disparities than ever in our history. We've seen these ponzi schemes and terrible corruption. The richest are making more than they have ever made while poverty is as bad as it has ever been."
To close the ceremony, everyone held hands to sing "We Shall Overcome."
Afterwards, the crowd dispersed quickly to their cars, to enjoy the rest of the holiday.