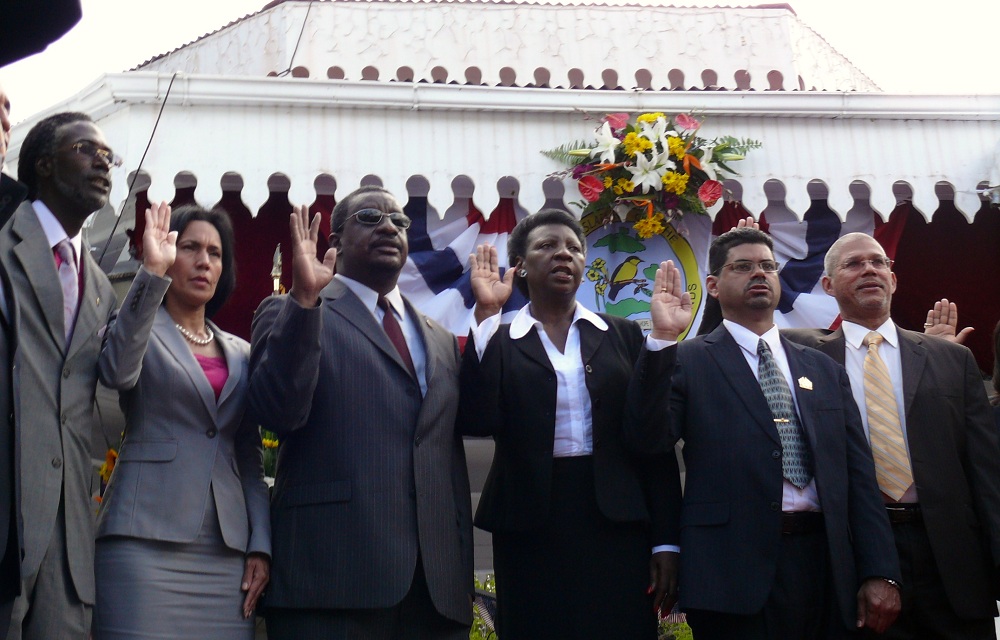 In its first official act, the 29th Legislature's majority caucus made the lawmaking process a bit more transparent by altering its rules on preemption, winning praise even from some minority senators Monday.
First, with great pomp and ceremony, Chief Supreme Court Justice Rhys Hodge delivered the oath of office to the 15 reelected and newly elected senators in Emancipation Garden.
Gov. John deJongh Jr., Delegate Donna Christensen and a host of other dignitaries—including one Roberto Massini, representing the V.I. "sister city" of Montescudaio. Italy—were on hand for the ceremonies. Red, white and blue bunting covered the bandstand and arrangements of fresh flowers played counterpart to the leafy green shade of the park.
Once the public ceremony concluded, the well-dressed gathering moved across the street to the Earle B. Ottley Legislative Hall for its initial organizational session. The sole item of official business was a bill formally establishing the 11-member majority caucus; committee chairs and members and establishing the rules for the 29th Legislature.
The 11 members of the majority all voted yea on the bill: Sens. Carlton "Ital" Dowe, Alicia "Chucky" Hansen, Louis Hill, Shawn-Michael Malone, Usie Richards, Ronald Russell, Sammuel Sanes, Patrick Sprauve, Celestino White, Alvin Williams and Janette Millin-Young.
The four members who are not in the majority voted nay: Sens. Craig Barshinger, Neville James, Terrence Nelson and Nereida "Nellie" Rivera-O'Reilly.
While the minority members traditionally vote "no" on the organizational bill, Barshinger said he almost voted yes because he strongly supports the majority's change to the controversial preemption rule, which in the past allowed senators to anonymously prevent legislation by recording their intention to submit legislation at some point in the future, then never submitting any legislation for consideration.
The practice came under fire after the Legislature passed large pay raises for itself and the governor on the last day of a lame duck session in 2006. While several senators said they wanted to submit legislation repealing or reducing the pay raises, an anonymous preemption prevented any senator from submitting such a bill and from knowing for certain who was to blame.
But under the new rules, once a bill is drafted for a senator, it will be "deemed public," Barshinger said.
"It's a small rule, and one senator could still place a hold on bill for years," he said. "But at least you will know who is holding the legislation."
Rivera-O'Reilly, who, like Barshinger, is not in the governing majority, also commended the change to the preemption rules.
Each senator used their turn at the microphone to thank their families and staff members by name, tell a little about their personal background and philosophy, and often also to say a little about what they hoped to accomplish while in office.
First-term Sen. Millin-Young recalled with pride that when her father, former Lt. Gov. Henry Millin, passed away in 2004 "newscasts described him as 'an honest man,'" and said she wants every family in the territory "to have the same pride in their family's legacy."
Russell spoke about the important role his grandmother, the late Eulalie Rivera, had in forming his values and goals in life, and of the tireless support of his wife, his siblings and his children.
Richards recalled marching with Russell against South Africa's racist apartheid regime in 1981 before taking time to thank each member of his family and say a little about each of his children's activities and accomplishments.
White, as always, got the crowd in stitches, though he said – as always – "just because you're laughing, doesn't mean I'm joking."
At just past 3 p.m. after each senator had spoken, Russell banged the gavel and declared the first legislative session of the 29th V.I. Legislature adjourned, and the gathering moved to the courtyard for a reception and late luncheon.
The officers of the 29th Legislature are:
— Russell – Senate President;
— Hill – Vice President;
— Sanes – Legislative Secretary;
— White – Majority Leader;
— Williams – Secretary for Intergovernmental Affairs;
— Richards – Liaison to the U.S. Department of Interior;
— Hansen – White House Liaison.
Committee Chairs:
— Richards – Rules and Judiciary;
— Dowe – Finance;
— Sprauve – Health and Hospitals;
— Millin-Young – Education, Youth and Culture;
— Hansen – Government Operations, Energy and Veterans' Affairs;
— White – Housing and Labor;
— William – Human Services, Recreation and Sports;
— Sanes – Public Safety, Homeland Security and Justice;
— Malone – Economic Development, Technology and Agriculture;
— Hill – Planning and Environmental Protection.