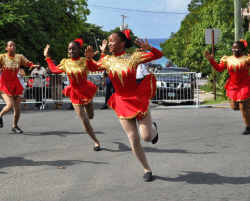 Kids of all ages twirled, danced, and moved to the music Friday as they kicked off the annual Crucian Christmas Festival Children's Parade, filling Frederiksted's streets with music and cheer.
Parents began arriving as early as 8 a.m. at the Claude O. Markoe Elementary School to get their children ready for the long day ahead, and as always, there was a delay due to latecomers. However, once the pickups and convertibles revved their engines, with queens and princesses to lead the floats and troupes, the parade commenced with the young Sparkle Lite Twirlers showing off their talent.
Wearing bright pink and purple outfits – the colors meant to represent the fights against breast cancer and domestic violence — the Twirlers seemed happy to be the first troupe to make the long trek through Frederiksted.
The St. Croix Majorettes were adorned in bright blue glimmering outfits, and kicked up their heels with white cowboy boots. Emyrtle Knight had two children marching with the Majorettes, an 8-year-old and a 4-year-old, and like all parents followed along to ensure that they received enough water and any attention if they needed it.
"I like to have them march to get them accustomed to people and the crowds for possible future pageants or parades," she said.
Stan Joines, the band director for the St. Croix Central High School Marching Band, arrived early to get his 57 kids ready, and was lucky to jump in ahead of schedule due to a large gap in troupes. They started marching again in the parade last year after taking a few years off, and even though they are not eligible for awards, he said they come because they enjoy it.
A big crowd-pleaser was the Rising Stars International Steel Orchestra. Decked out in festive colors and ribbons, they slowly moved through the streets, where bystanders could be seen all the way to King Street dancing to their lively rhythms and upbeat mixes.
St. Mary's School Steel Orchestra and the Lew Muckle Elementary School Steel Pan Orchestra were admired as well and kept the crowd moving despite the harsh sun and long hours of standing. The Quadrille Dancers also generated playful cheers from spectators.
MJM Discovery Cove, , a nonprofit organization that advocates for children with Down syndrome, marched proudly to raise awareness of disabled adults and children. Parents held signs up as they marched, like "Make inclusion a reality" and "Treat me like a person."
As the floats and troupes made it to King Street, the children began picking up the pace and dancing cheerfully to earn points from the judges.
Ricardo Richards Elementary couldn't wait to get to the end of the parade. As one of the last troupes, they were getting pretty tired as the hours passed. However, principal Colleen Williams was enthusiastic about this year's theme, "Sailing 1st Class While Playing Mas," and credited Zahra O'Reilly for creating the adorable sailing theme.
"My favorite part of the parade is when we get down to King Street and they let it all out," she said.