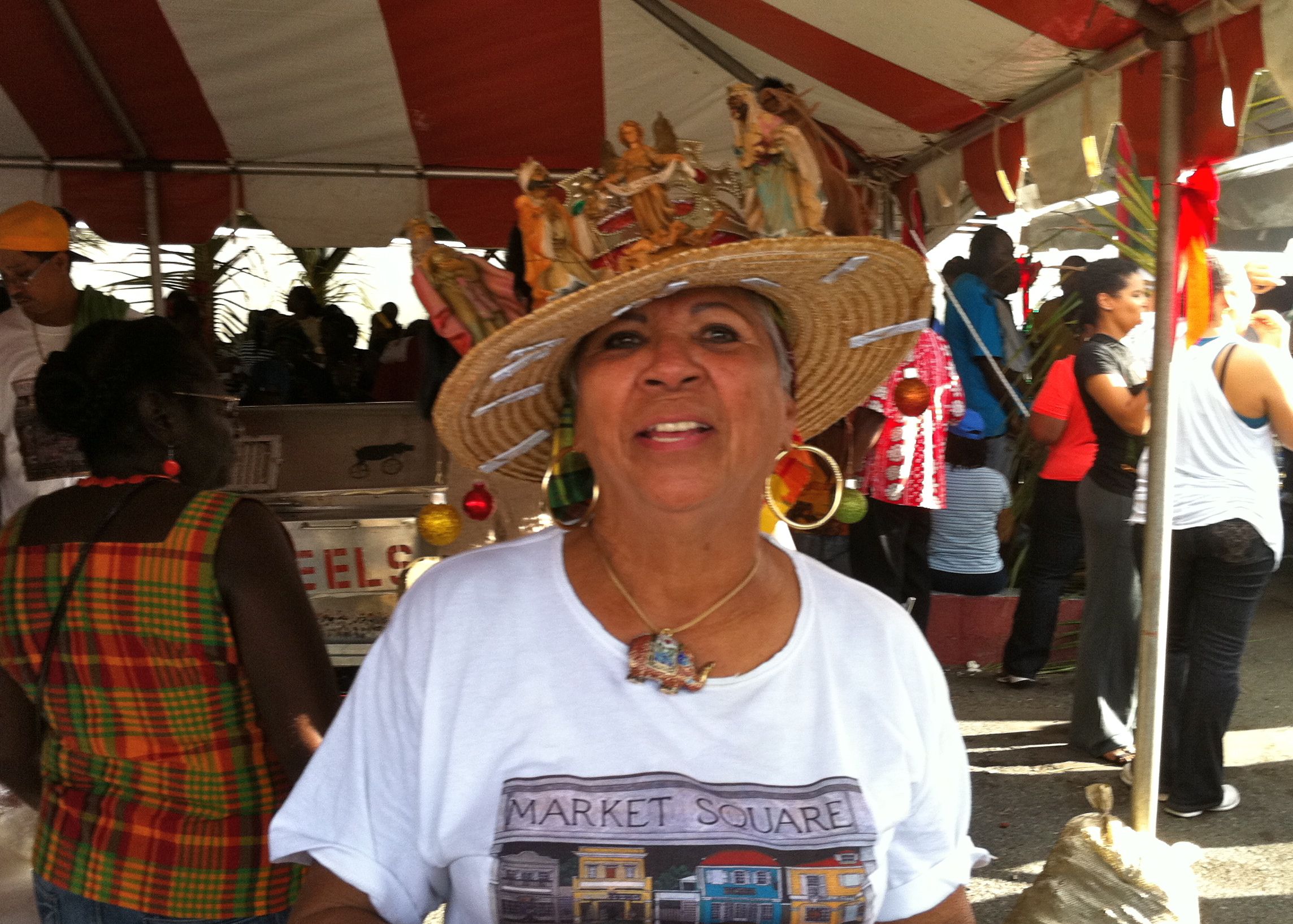 After a long tramp into Christiansted at the crack of dawn with the imitable Stanley and the Ten Sleepless Knights, hundreds feasted for free, laughed and joked with friends and jumped to the music Thursday at the annual All Ah We Three Kings Day tramp and Cruzan-Rican Breakfast.
The tramp began at Bassin Triangle—flowing through town behind Stanley and the band as they played quelbe Christmas carols—and ended at the Christian "Shan" Hendricks Vegetable Market, where volunteers began serving up plates to the throng.
"It's a big potluck, family fun, and everyone gets to eat. It's all donated and everyone serving is volunteering, so there is nothing to buy," said Angelita Gautier, a St. Croix expatriate now living in Connecticut. This was her first time being home for the holidays and at the breakfast.
"It's been wonderful, like a class reunion," Gautier said. She and old classmates from St. Croix Central High looked over their yearbook during the tramp, she said.
"Bagoon, he really started it, and we are carrying it on," said Gautier's companion, Beverly Bogan of St. Croix.
George "Bagoon" O'Reilly, a popular radio host and stalwart supporter of the St. Croix Christmas Festival who passed away in 2008, started the tradition and spearheaded it for its first three years, along with Lt. Gov. Greg Francis.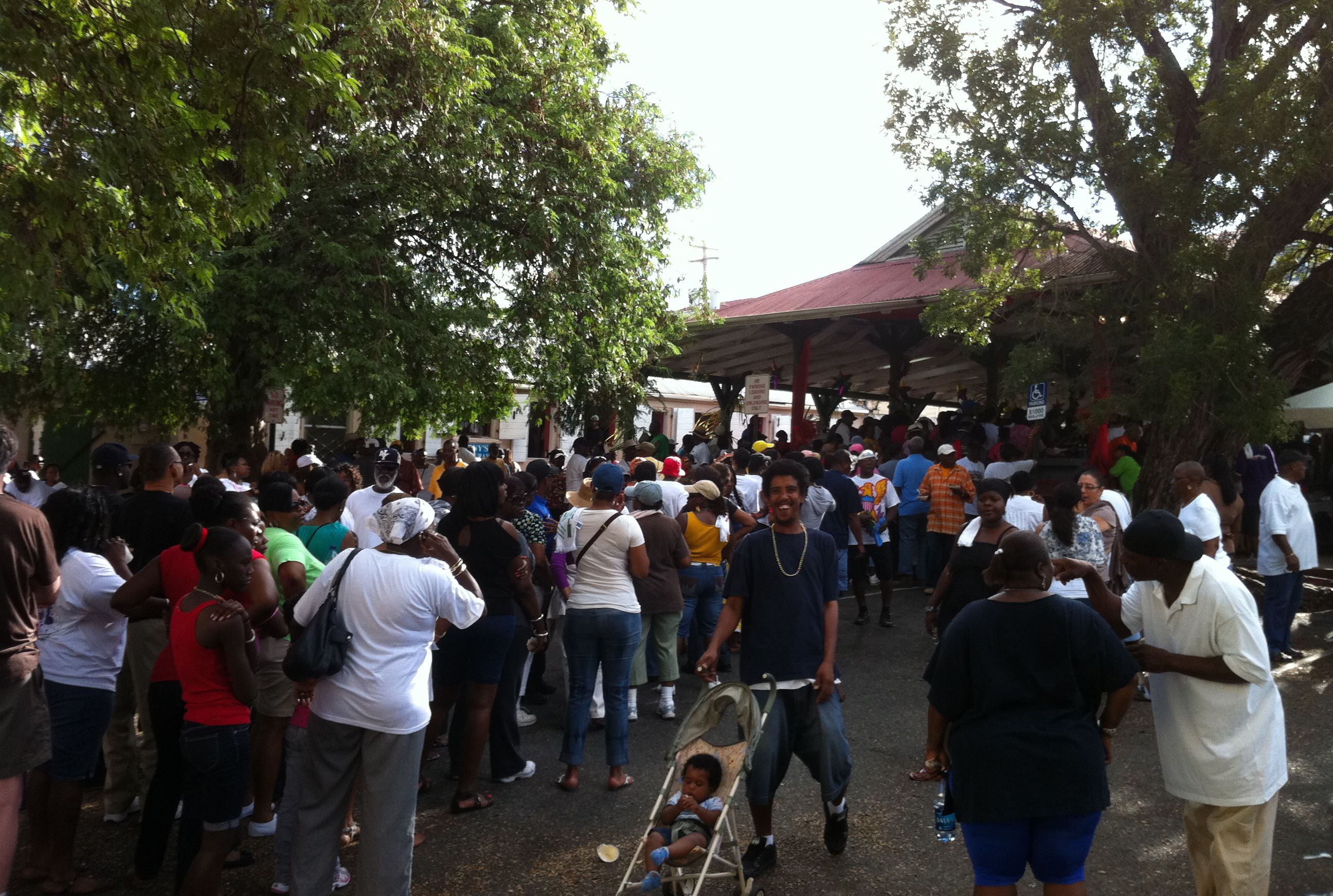 O'Reilly and Francis, then the St. Croix administrator, decided to start a teetee bread bakeoff and hold it on the first Tuesday of the year, which happened to be Three Kings Day in 2005. Francis continued the tradition after O'Reilly's passing, and the festivity is now in its sixth year.
Many of the cooks and revelers come back again and again, forming their own traditions as the breakfast and tramp grows year by year. This was St. Croix resident Gloria Gordon's third breakfast.
She donated food, cooking up a huge pot of asopao do bacalao, or Puerto Rican-style fish soup. "It has potatoes, dumplings and rice," she said. "I used catfish this year, which came out great."
Gordon also likes to celebrate Three Kings Day by crafting and wearing a festive hat.
"This year, it has the three kings, the baby Jesus and horses," she said, showing off her handiwork with a happy smile.
This was the second year for Luis Cruz Jr. of St. Croix, who came with a crew and a whole pig, roasting in an unusual customized oven he built himself.
"My oven has a built-in CD player," Cruz said, showing off his charcoal-fired baby. "I like to fabricate metal and build things," he said. The next one is going to have a TV and two separate ovens: one for roasting pork and the other for chicken and turkey, he said, adding that he looks forward to the breakfast.
"It's a beautiful activity, no?" he said. "People you don't see the whole year, you meet again here."
With St. Croix's Digital Band getting the market square crowd jumping, the street party and holiday feast kept rolling along until after noon, when, tired and full, the revelers began drifting off toward home.