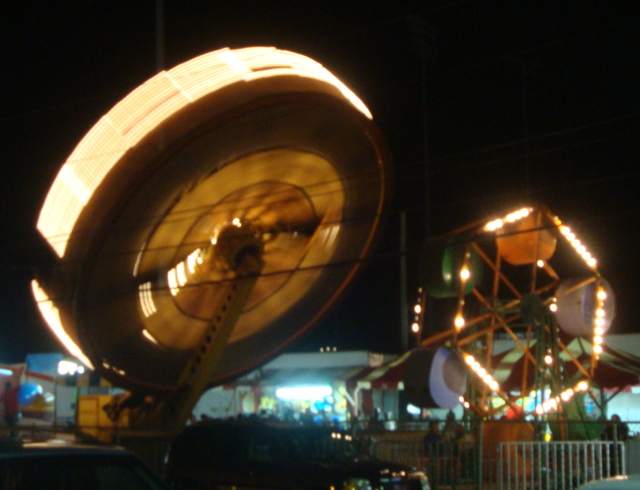 Music and the smell of carnival food filled the air, fireworks streaked the sky, and the grounds were filled with crowds of happy, smiling people as the Crucian Christmas Festival became a reality Thursday night.
A few months ago, many had their doubts whether the festival would even take place. When Tropical Storm Tomas rolled over the islands in October, the four-day downpour dumped biblical amounts of rain and left behind a ruined, bedraggled, mud-spattered field north of Frederiksted, the planned site for festival village.
Those who said there was no way the grounds and facilities could be repaired in time had not counted on the combined efforts of a community that simply was not going to be without its festival village.
And Festival President Davidson Charlemagne had thanks for all those agencies that had pitched in to make it possible, especially the Department of Public Works, the Water and Power Authority, the Department of Agriculture, and the Police Department.
Improvements to the festival grounds included the ground itself, firmly packed and gravelled. WAPA installed a new electrical system, including lights and light poles.
And while the new lights provide added illumination, they use a lot less electricity because they are LEDs. And the police added a system of surveillance cameras so they can provide better security during the festival.
And just like that, the Crucian Christmas Festival Village was ready to open, right on schedule.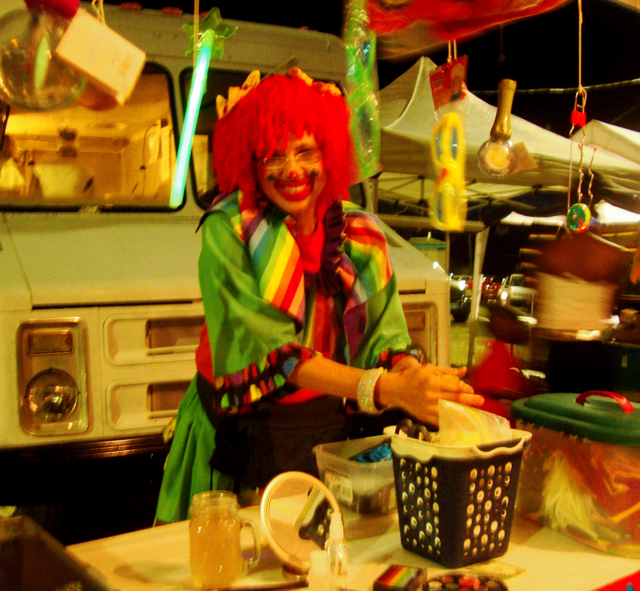 Scanning the festival booths Thursday revealed no shortage of friendly faces, including "Patsy the Clown," who was back on St. Croix after a long absence. A native of the big island, she had moved away, raised a family, and become a grandmother.
But now she's back with the clown act she's been honing for 11 years. She was setting up her face-painting equipment and balloon animals, along with the toys and clown implements she sells.
After the ribbon-cutting and opening ceremonies, all eyes turned west to the skies above the shoreline, where a 20-minute fireworks show lit up the sky.
The festival village will remain open through Jan. 9, with music programmed every night to go along with the booths, food and carnival rides. The schedule for entertainment at the village is as follows:
Friday, Dec. 31
9 – 11 p.m. Fusion Band
Midnight to 2 a.m. Unlimited Band
Saturday, Jan. 1
9 – 11 p.m. Stoka Band
Midnight – 2 a.m. Red Hot Flames featuring Oungku from Antigua
Sunday, Jan. 2
7 – 8 p.m. St Croix Educational Complex Band featuring Complex Quadrille dancers
8 – 9 p.m. Bradley Christian and his Quadrille Dancers
9 – 10 p.m. Native Riddim Band
10:30 – Midnight The World Famous Xpress Band
1230 – 2 a.m. Image Band
Monday, Jan. 3
9 – 11 p.m. UMB Soldiers
11 p.m. – 2 a.m. Daddy Jones and the Crew featuring Pumpa, Chantel and Jamal
Tuesday, Jan. 4
9 – 11 p.m. Digital Band
Midnight to 2 a.m. Onion and the Three Cylinder Band from Antigua
Wednesday, Jan. 5
8 – 10 p.m. Fire King, Mada Nile, Ras Attitude Backed Up by Fyha Train Band
11 p.m. – 1 a.m. Roots One
1:30 p.m. Lady Saw
Thursday, Jan. 6
8 – 10 p.m. Bonny Cepeda
10:30 p.m. – 12:30 a.m. Liquid Sounds
1 – 3 a.m. Sabor Latino
Friday, Jan. 7
8 – 9:30 Stylee Band
10 – 11:30 p.m. Sweetah Band
Midnight – 2 a.m. JDPP
Saturday, Jan. 8
8 – 10 p.m. Hartatak Band
11 p.m. – 12:30 a.m. Denise Belfon featuring Blacks from Trinidad – I Selling Pipe!
1:30 – 3 a.m. Outta Limitz Band Featuring Elizabeth Watley
Sunday, Jan. 9
8 p.m. – Midnight Prince Galloway, King Derby and "Crazy" out of Trinidad!