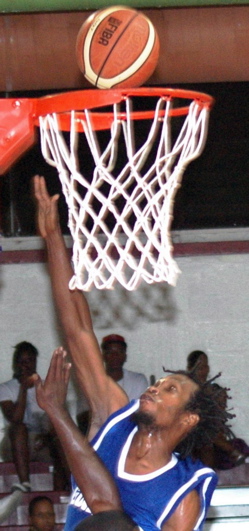 Guidance exploded out of the gate Saturday night in the opening game of the New Breed Basketball Association 2010 finals on their way to an 80-71 victory over Boys Dem at Central High's Ronald Charles Gymnasium.
Both teams were the second seeds in their respective divisions, and they both got to the finals by eliminating the tops seeds. Guidance beat the eastern division champions Lakers and Boys Dem knocked off the four-time defending champ Hoyas.
Boys Dem was riding high after the huge upset the night before but they were quickly brought back to Earth as Guidance, led by 15 first quarter points from Eric McBean, torched the nets for 28 points while holding their opponents to 17. Guidance power forward, Andy Chelcher, also set the tone for the game from a rebounding standpoint, cleaning up just about every defensive rebound and not allowing Boy Dem many opportunities for second chance points, which is one of the strongest areas of their game.
The second period was played more evenly but Guidance was still able to outscore Boys Dem 17-15 to go into the locker room at halftime with a 13-point lead at 45-32.
A much better defensive effort in the third quarter by Boys Dem held Guidance to 15 points in the period, but they only scored 17 themselves and the lead was still in double digits as the fourth quarter opened to a 60-49 score.
Havier Martinez tried to single-handedly get Boys Dem back into the game in the fourth quarter with 11 points in the period, but Guidance was on cruise control by then, doing just enough to keep the league's youngest team at bay. Boys Dem was again two points better in the fourth, outscoring Guidance 22-20, but that was not nearly enough to mount a serious challenge and they went down 80-71 to trail 0-1 in the best of five finals.
Chelcher led Guidance on both ends of the floor, finishing with game-highs in both points with 24 and rebounds,17. He got good support from teammates McBean, who finished with 23 points and 11 rebounds, and Calvert White, who finished with 17 points and six assist. Martinez netted 15 points to lead Boys Dem offensively, Terrell Christian had 11 points and 11 rebounds and Wilson Ferrance and Steve Gardener both finished with 10 points apiece.
The action continues at 7:30 p.m. Monday and Wednesday in Central High's Ronald Charles Gymnasium.