Eggplant, honey, lemon grass, tomatoes, genips, bananas, plantains, mangoes, sugar apples, and much, much more filled the tables at St. John's first ever official famers' market, held Friday in Cruz Bay Park.
"I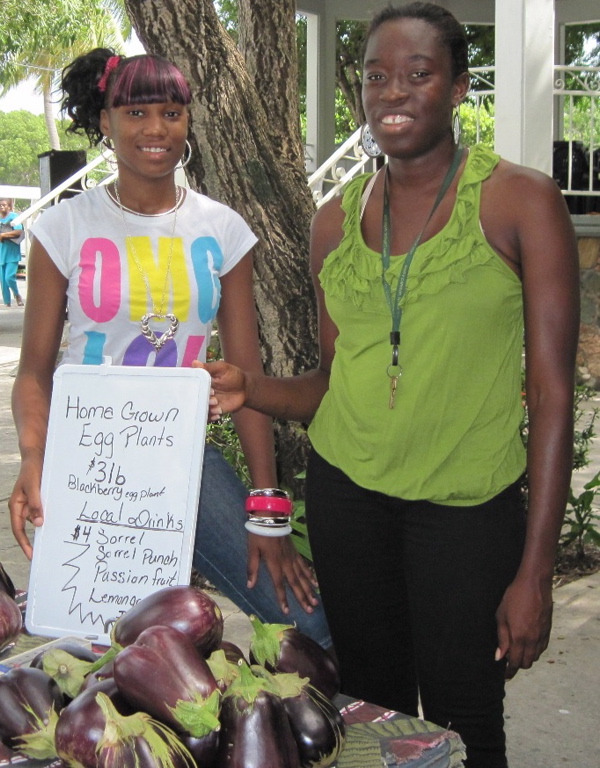 came to get my honey. Everyone's talking about the honey," St. John resident Judith Plair said.
Plair was discussing the harvested-in-St. John honey for sale at Athena Swartley's table. Along with the honey, Swartley was free with information about what it takes for bees to make honey. She said that the honey's taste reflects what the bees were eating during the past four months.
"Genip, mango, guavaberry, starfruit, guava, Christmas palm – practically any palm," Swartley said, ticking off the plants that bees like for their tasty pollen.
Swartley took up beekeeping two years ago after graduating from a class sponsored by the Agriculture Department. She said that since St. John bees haven't fallen prey to disease like those on the mainland, beekeeping is a natural for St. John.
Another St. John graduate of the beekeeping class, Eugene Brady, was on hand with a hive to demonstrate how busy the bees are in creating their hive. He and Swartley both are in the business of removing feral bees that pose a danger from homes and trees.
Swartley and customer Leyla Kalantarian spent considerable time discussing the health aspects of eating honey.
"Because it's fresh and organic. I have a preference for that," Kalantarian said.
St. John resident Cynthia Smith grows lemon grass and other greenery in her yard. Smith is also a graduate of an Agriculture Department class. She studied Home Grown Gardening, which she said fueled her interest in growing things, a skill she's passing on to a younger generation.
"I have half a dozen kids come to the house and help with the gardening," she said.
Business was booming for Kishma Riley and Shannika Isidore, who were selling eggplants for Isidore's mother's Love Livin' St. Thomas farm.
"We sold about 30 eggplants," Riley said.
Tourists David Salzman and Beth Woodman from Evergreen, Colo., were enticed by Lion Dance Lion's display of genips.
"Those are the sweet ones," Lion said.
With the Famer's Market scheduled to operate from 9 a.m. to 3 p.m. a big contingent of senior citizens plus many other residents hung around for a couple of hours waiting for the V.I. Farmer's Cooperative members to show up. Transportation difficulties delayed their arrival until around 11:15 a.m., but when they started putting out displays of many fresh vegetables, those waiting went straight to the table.
Rita Stinson, Farmer's Cooperative director for fruits and vegetables, said the group has about 75 members selling both produce and meat.
She anticipated business would be good.
"We'll definitely come again," she said, echoing the comments of the other vendors.
Agriculture Commissioner Louis Petersen Jr., reached by phone on St. Croix, said that he plans to hold more Farmer's Markets on St. John, but will first address the transportation issues.
"It's a project in the making," he said.