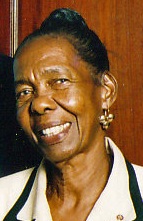 Mary Elizabeth Webster Seales, also known as "Mother Seales" or "Memo," of Estate Whim died on July 27. She was 85 years old.
She is survived by her daughters: Pearl Miranda, Cheryl Ross and Winona Lester; honorary daughters: Florence Petersen and Sharon Alexander; sons: Theobald Seales Sr., Tyrone Seales and Elmo Seales; grandchildren: Michelle, Desiree, Anselmo Jr. Miranda, Grace McNamara, Cheru, Rupert Oliver, Edgar Tyrone Ross, Tyrone (Terry), Toya, Tremaine, Deray, Toliano, Shermaine, Kara, Theobald III and Akeal Seales, Mizelle Seales-Calixte, Rashida and Rasul Lester; great- grandchildren: Cheriice, Edward, Kia Zyann, Mia, Jamal, Onahji, Anthony, Amia, Ashley, Tejah, Tariq, Shonette, Aniis, Jahlilah, Jahleel, Dinaja, Ajani, Tamara, Tremaine, Nigel, Rafael, Renwick III, Kamari, Kylen, Jaeden, Teron, Tyrone III, Tariq and Taheem; great-great grandchildren: Ja'layah, Anand and India; and sister-in-law, Rosalia Seales. She is also survived by daughter-in-law, Beverly Seales; sons-in-law, Rupert W. Ross Jr. and Winston Phillips; niece, Merle Peets; nephew, Wilfrid Webster; great nieces: Debra Prilean, Verona Hendricks and Rosalie Javois; great nephews: Fernando, Augustin, Christian, Frank, Martial, Glenn, Mario and Shawn Webster; special friends: Inez Hinds, Gwendolyn Caesar, Winston Phillips, Thomas Johnson Sr., the Holy Cross Episcopal Church family, and the Rotary Club of St. Croix West, as well as other relatives and friends too numerous to mention.
There will be a viewing at 9 a.m. and a funeral service at 10 a.m. on Friday, Aug. 6, at St. Paul's Episcopal Church, Frederiksted. Interment will follow at Kingshill Cemetery – Veterans Section.
All arrangements are entrusted to James Memorial Funeral Home Inc.