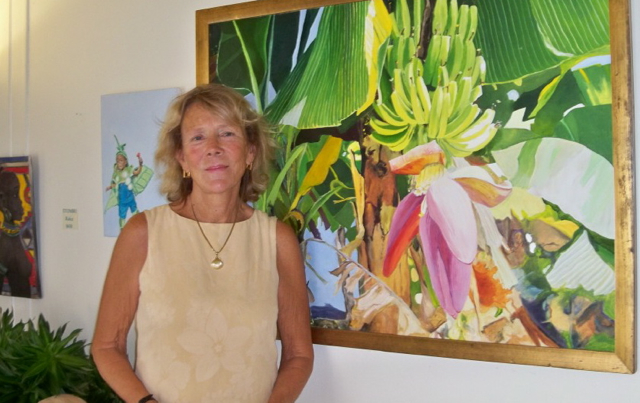 When Marjorie Robbins moved to St. Croix, she thought she would write the great Caribbean novel. Instead, she paints great Caribbean art and sells real estate.
She says she got writer's block, so as an outlet for her creativity she started painting.
"I love nature and earth is a wonderful place of inspiration," Robbins says.
Originally from New York, Robbins spent a lot of time in the Caribbean while growing up. Her mother was from the Turks and Caicos islands. Her father's photos from the Caribbean in the 1950s have been the subjects for some of her paintings.
Robbins creates life-like paintings with crisp lines of buildings, people, plants and scenes clearly defined in colorful oils. She adds a blurred, dreamy look in certain areas on the paintings, giving a softness to the work.
Robbins, who paints almost exclusively in oils, says she loves the chemistry of pigments in oil paint. She says she usually works on a large scale – up to 44 inches by 54 inches – and prefers panoramic landscapes. She says it takes her around six weeks to complete a large painting.
"Of course, that isn't working on it full time like I would like to do," Robbins added.
Robbins says art and literature "just blow her away."
She has always enjoyed reading and writing and has published a fiction novel called "Last Civilizations" about wealthy kids lost in society.
She graduated from the University of Pennsylvania, majoring in English literature. Her art training is from the Pennsylvania Academy of Fine Arts and the National Academy of Design in New York. She says she has copied others works and picked up techniques from artists she likes.
She says some people have a natural talent for singing and she is one who has a natural ability to paint. Robbins remembers being pulled from class in elementary school to paint school murals.
Robbins had an art gallery for a few years on Company Street that she called the Christiansted Gallery. But she knew after moving to St. Croix in the early 1980s that art was not a way to make a living.
To pay the bills Robbins became a licensed real estate broker.
Her real estate office, Danish West Indies Realty, has morphed into a gallery through Art Thursday art walks. Her works can be viewed during regular business hours at the office on the corner of Queen Cross and Company Streets in Christiansted.
She was chosen to design the poster for the 23rd annual Good Hope Fine Arts Exhibit this year. She has displayed her work in the juried show since the mid 1990s.
Robbins and fellow local artist Sue Snow are producing an art show together, with the date and venue to be announced soon.
She has taken her art to a smaller scale and is currently painting portraits of children. Robbins says she is really enjoying doing the portraits.
"Painting for me is fulfilling," Robbins says. "It isn't so much what others think about my art. People have different preferences and pick favorite art works by subjects, themes, artists and styles."