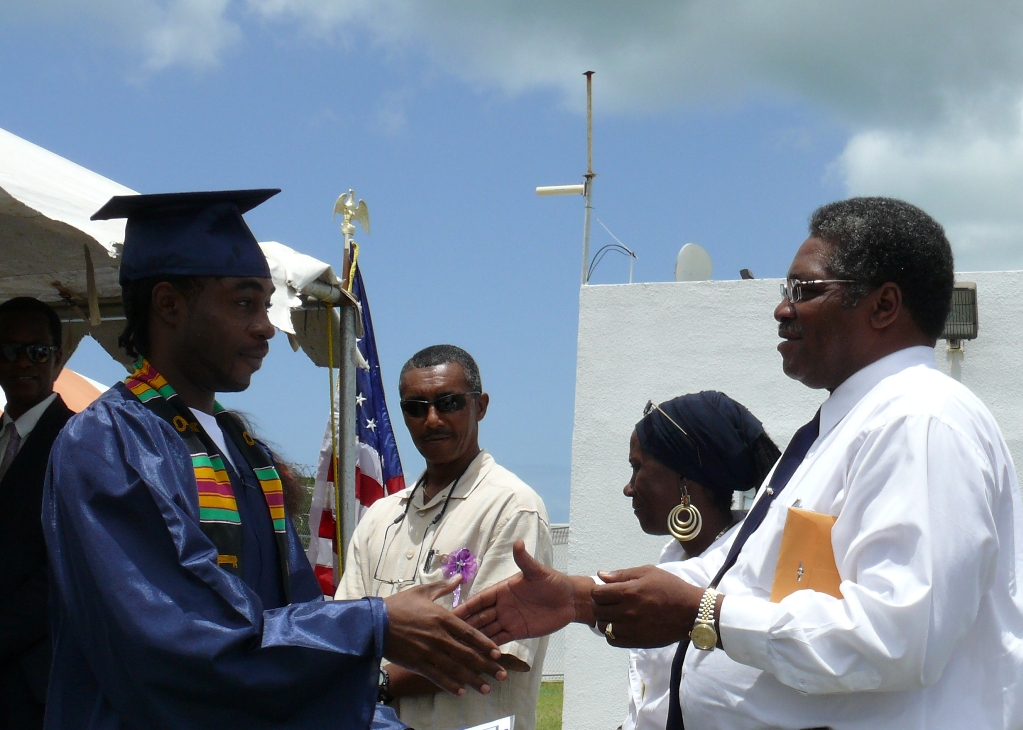 Some inmates at Golden Grove Adult Correctional Facility on St. Croix had a brief moment in the sun at a ceremony outside the walls Friday celebrating their educational accomplishments behind bars.
Roughly 30 inmates who chose to be involved with the prison's continuing education program were commended Friday. Two attained their high school diplomas and another four received trade certifications as pesticide applicators. Others showed off original poetry, newly acquired sewing skills or were commended for performance in prison classes or substance abuse treatment.
Keith Benjamin, a former inmate, addressed the prisoner-students, urging them to keep pushing forward on their educations.
"I don't' care what you are in jail for, you have got to study and continue to develop," he said. "I want you who are here today to know, you are on the right track." Benjamin turned to inmate Akeel Codrington, who sat in the front row wearing a cap and gown to connote his receiving his high school diploma.
"You've got a lot to do, don't stop now," Benjamin said to Codrington.
Over 60 percent of the prison population does not have a GED, Benjamin said.
Benjamin served 25 years on a murder charge, until his sentence was commuted by Gov. Charles Turnbull four years ago. He said he was wrongfully convicted. He now works for the V.I. Legislature.
V.I. Bureau of Corrections Director Julius Wilson said he was proud of those under his charge who were pursuing their personal development.
"You hear a lot of rumors about what goes on inside a penal institution," he said. "But you don't hear enough about this. … l am proud of you for it. And to the families who have come out today; this is just one of you children's accomplishments and I thank you for coming out today to celebrate their accomplishment."
Sens. Sammuel Sanes, Wayne James and Terrence "Positive" Nelson were there to give their support.
""Let yourself be free, even when here," James said, urging the inmates to take advantage of the quiet, solitude and time to study and learn.
"Remember, we are mostly spirit," he said. "If I were to slap you in the face, the physical pain of the blow would fade in moments, but the pain of that insult may persist and shape an entire lifetime."
Nelson offered himself as an example of succeeding despite society's expectations.
"I stand in front of you as the first Rasta senator," he said. "Nothing can limit you no matter what they say. They only win if you turn out like they say you are."
Supporting those inmates who are trying to progress is critical, said Sonia Maynard-Liburd, the director of programs for Golden Grove. "Without positive reinforcement, which is a catalyst for success, they will fall back by the wayside," she said.
Eduardo Corneiro, director of the State Office of Career, Technical and Adult Education, said educational programs within corrections are too important to allow to wither, even in tough budget times.
"It makes more sense to train you than to incarcerate you," he said. "But you too must make a commitment. I expect to come back here and see the rest of you in a cap and gown. No excuses!"
More than anything else, the education program at Golden Grove needs volunteers with expertise in plumbing, electrical work and other trades who are willing to give their time to teach, said Thesia Nieves, who runs the education program. Anyone interested in volunteering can reach Nieves at 773-0295 ext. 215, email latanja16@yahoo.com, or call Maynard-Liburd at 778-0400, ext. 4257.
Editor's Note: The original photo that ran with the story had incorrectly identied the photo subject as Marvin Dominguez. The photo has now been replaced. The Source regrets the error.