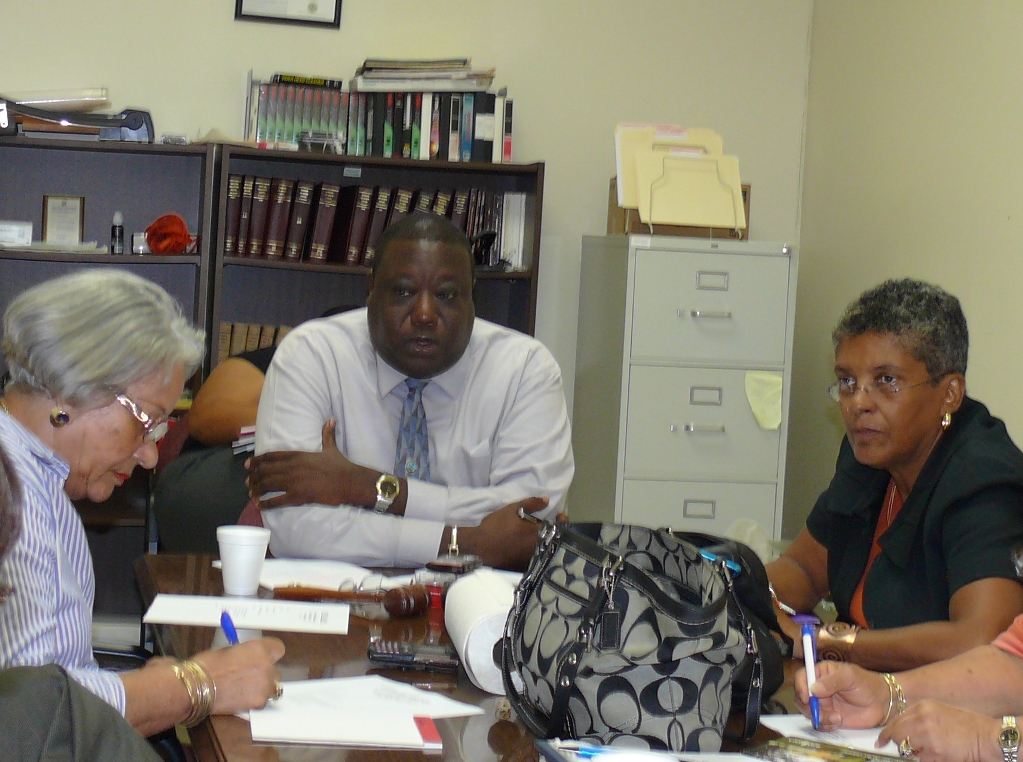 With elections looming, the St. Croix Board of Elections met Thursday to hammer out logistics and discuss myriad details, from selecting privacy screens for disabled voters to debating a policy on political activity by board members.
Both the St. Croix and St. Thomas boards are becoming busier and busier as election deadlines approach. Next Tuesday is the first day candidates for election to V.I. office start filing nomination papers and petitions.
Much of Thursday's discussion revolved around a survey performed by the Disability Rights Center of the Virgin Islands, rating the accessibility of each of the territory's polling places. Along with specific concerns about particular polling places, the survey identified general areas of concern. Those included wheelchair accessibility at some sites, a lack of privacy screening for disabled voters, and signs that are not visible for those in wheelchairs, Supervisor of Elections John Abramson said to the board.
The board approved St. Croix Deputy Election Supervisor Corrine Plaskett's selection of a particular privacy screen to purchase from an election equipment catalogue and discussed training poll workers to place signs higher up, where they will not be blocked from sight by people coming to vote.
Board member Lisa Moorhead asked what policies were in place regulating political activities by board members. Many of the members are also government employees and officials, including the board's chairman Raymond Williams, who is chief of staff to Lt. Gov. Greg Francis and board member Dodson James, who is St. Croix Administrator.
"Recognizing this may be kind of a contentious election, I think we need to stay far away from even the appearance of impropriety," she said.
Moorhead, an attorney, said conflict of interest laws may apply, but those usually involve some monetary interest, and asked Abramson what policies there were. Abramson said there was no official policy regarding endorsements.
"We have generally had a gentleman's agreement, depending on the person's good judgment to decide their role," he said. "Over the years we have had several candidates for office on the board, some of whom have counted their own ballots."
The board could enact a policy if it chose, Abramson said.
"I would recommend you give it a level of enforceability if you do," he said.
Moorhead said existing law laid out repercussions for conflicts of interest.
"So let's reference that in the policy," Abramson said.
Williams said he would bring up the question when the V.I. Joint Boards of Elections meet Friday on St. Thomas.
"I don't know we will have a policy tomorrow but we can work toward it by next meeting," Williams said.
Present at Thursday's meeting were: James, Williams, Moorhead, Ana Davila, Carmen Golden and Rupert Ross. Jacqueline Heyliger was absent.
The Joint Board of Elections meets Friday in the elections office on St. Thomas at 9 a.m. The meeting is open to the public.