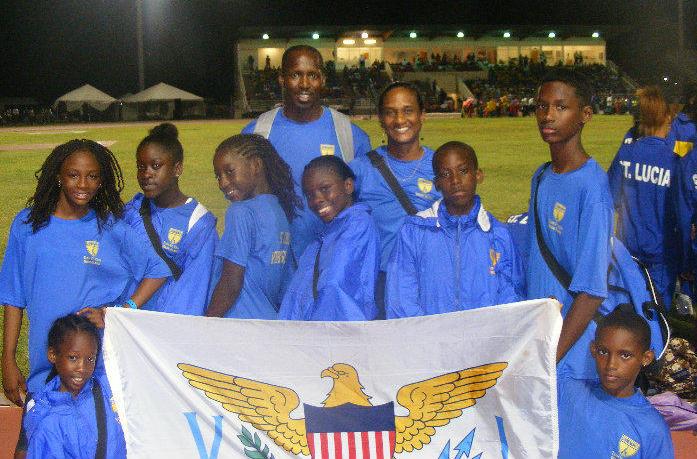 On the weekend of July 24-25, a team of young athletes from St. Croix competed in the biennial 2010 Caribbean Union of Teachers Games held in St. Kitts. St. Croix's squad was comprised of a team of eight athletes under the age of 15: Annika Benders, Mikaela Smith, Sevon Washington, Krystahl Gordon, Shamiyah Burke, Rodney Griffin, Britney Sage and Malique Smith and three accompanying officials: Keith Smith, Mireille Smith and Mr. Johnson.
There were some very impressive performances with four Crucian athletes reaching the finals six times. Rodney Griffin reached the finals three times with personal bests in the 100m and 200m. Mikaela Smith, Shamiyah Burke and Malique Smith all reached the final one time each.
Full results for the team are:
Annika Benders U11: 100m 14.89 (11), 200m 30.50 (12), Ball Throw 23.75m (11)
Mikaela Smith U11: 400m 1:17.10 (10), Long Jump 3.05m (8)
Sevon Washington U11: 100m 14.40 (9), 200m 30.46 (10), Ball Throw 32.23m (11)
Shamiyah Burke U13: 400m 1:12.76 (11), Shot Put 4.91m (8)
Krystahl Gordon U13: 100m 13.99 (10), 200m 29.65 (12), Long Jump 4.04m (11)
Rodney Griffin U13: 100m (semi-final) 13.30, 100m (final) 13.17 (7), 200m (semi final) 26.80, 200m (final) 26.69 (8), Long Jump 4.44m (7)
Britney Sage U15: 100m 13.52 (13), 200m 28.42 (14)
Malique Smith U15: 800m 2:28.92 (11), 1200m 3:59.84 (7), High Jump 1.40m (12)
For more information or questions, contact Keith Smith at 277-1123.