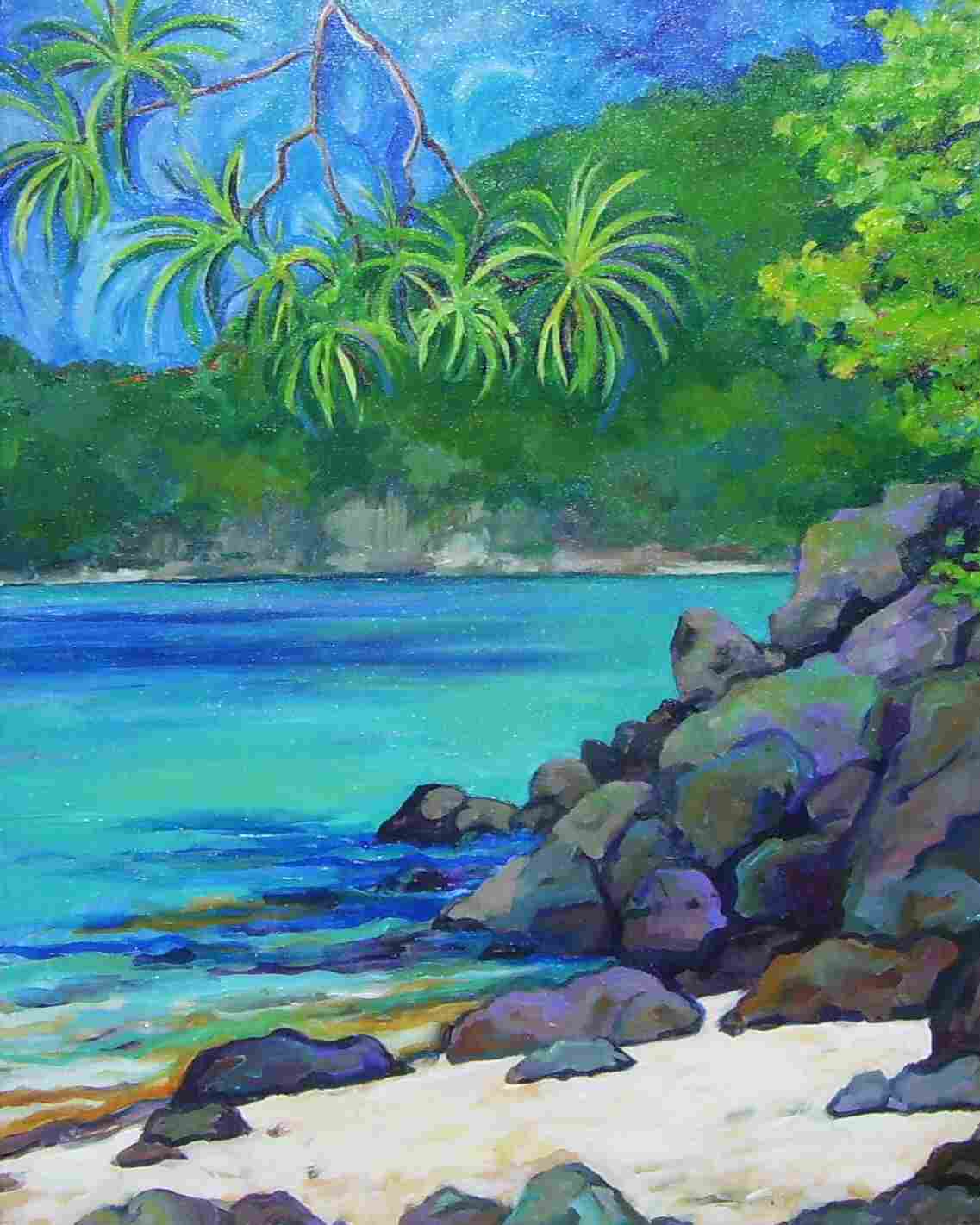 Mango Tango Seaside Art Gallery will unveil "Sweet Dreams," from 5:30-8:30 p.m. on Friday July 30. On view and for sale will be antique day bed headboards from Tanzania, and paintings and sculpture from the islands. Gallery owners Smokey Pratt and Jane Coombes have added unique furniture to the gallery since it opened in Yacht Haven Grande in 2008. "We believe that art and furniture should not just connect with the buyer but also create conversation with others, " said Coombes.
The nucleus of the show started a few months ago when the gallery ordered and received six headboards from Zanzibar, which are over 150 years old. They have two-sided painted panels of glass from India. After showing the headboards to select clientele, most of whom commented that the primary colors and flower and birds painted on looked like stencil art and simply would not fit in their homes, the gallery contacted Judy King on St. Croix and Helen Dunkerley here on St. Thomas.
Judith King is famous for her paintings of island flowers, fruits and architecture. Helen Dunkerley is a virtuoso ceramicist, who uses the clay from the north side of St. Thomas. When the two were asked to create new panels for the antique beds, they were initially reluctant, but they enthusiastically joined the project after the gallery agreed to leave two headboards in tact.
Coombes said, "The headboards were always works of art. We offer two with original glass panels, two with Dunkerley's embossed terra cotta tiles, and two with either King's paintings of flamboyants or island cottages. Also on view is a magnificent corner cabinet with original panels."
In the two years Brenda Sylvia has made the Virgin Islands home, she has earned a name for herself as a performance artist, celebrated for her provocative fire dancing. Mango Tango is proud to present her painterly talents.
Sylvia earned her Bachelor of Fine Arts from James Madison University in 1983 and her Masters of Fine Arts in painting from Washington University in 2004. The natural beauty of the Virgin Islands brought her here. The act of painting outside and experiencing nature firsthand is an integral part of her work. Working on location, she captures an engaging immediacy in oil or acrylic canvas paintings.
Sylvia said, "My goal in every seascape and landscape canvas work I create is to make it vibrate with the tropical colors that inspired me to move to the Virgin Islands."
Kat Stevens is an artistic person, who has searched for a way to share the splendor of the islands. During her creative journey, she began constructing her own art form to communicate it. She looks to the flora and fauna of the tropics to create individual sculptures. Her medium is the base of the palm frond, carefully cleaned and treated, painted and transformed into a Caribbean critter. Each sculpture is designed with whimsy, while following the natural shape of the frond.
There will be music by 2 Blue Shoes. Meet the artists at the rum punch reception. For more information, call 715-2789.