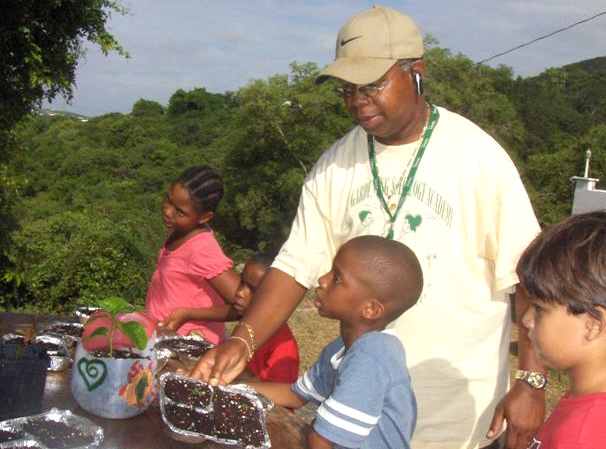 The 25 students in front of Mario Francis are a lively lot, but the seasoned educator has them well in hand. Francis is a natural teacher, and the environment is his stage.
Rules are posted on the wall – be obedient, focus, use time wisely – at the New Herrnhutt Moravian Church, where the eight-week 2010 Junior Gardening & Ecology Academy, Inc., is being held this summer. Francis says more than 2,000 students have attended the academy, over its 18 years.
The name can be misleading. The seeds that are sown in Francis' garden will germinate into a broader understanding of the world around us; sewing tentacles in the fields of cultural awareness, history, geography and the usual three R's – reading, writing and 'rithmetic.
Francis' "hickory stick" is his passion for teaching youngsters, encouraging them to enjoy and understand everything from the workings of a mangrove lagoon to respecting your neighbor.
"The gardening brings longevity into their lives," he says,"seeing how things grow, how they're nurtured."
While most the students are from local elementary and high schools, private and public, Francis takes a special pride in a group of students from the states.
"These are students whose parents have attended the academy; in fact, one family is third generation. They have family or relatives living here on the island they come to spend the summer with."
As if on cue, Stanley JeanBart, a 10-year-old, comes to ask Francis a question. Or maybe he's listening to the interview.
"I'm from Boston," he offers. "I'm staying with my godmother this summer." He says he is learning "lots about plants, gooseberries." With that, he extends a hand, "It's my pleasure meeting you."
Manners are high on the academy's curriculum, and it shows.
Demoriye Chisolm, another 10-year-old, is from North Carolina, a second-generation student.
"I'm staying with my aunt this summer," she says. "My mother attended the academy, too."
The academy has six counselors, ranging from 16 to 19, most of whom are former students. They teach individual groups of students, separated by age. The 25 students range from seven to 15 years.
Sheniqua Williams, a computer science student at Florida Memorial University and a former academy student, is teaching this summer in a program in conjunction with the Department of Labor. The counselors all receive a modest salary.
President of the Hibiscus Society, chairman of the V.I. Urban and Community Forestry Council, founder and director of the St. Thomas Audubon Society, Francis is passionate about all wildlife. That passion extends to the minds of his charges. At least once a week, he invites a speaker, who can range from wood sculptor Eloheem Scatliffe to veterinarian Laura Boschulte, who spoke about the importance of caring for pets, to, last week, Tania Freeman from the Family Resource Center.
"She spoke about 'good touches' and 'bad touches,'" Francis said, "things that children need to be aware of. We want to explore all avenues of a child's social abilities and thinking skills."
Then, there's the sheer enjoyment of field trips, which include horseback riding, swimming, visits to local farms. It would seem there is no area of St. Thomas or St. John unknown to Francis.
"You'd be surprised," he says. "There's 53 beaches. We visit three on St. John and five on St. Thomas. That's part of the geography lesson. Last weekend we camped out at Cinnamon Bay on St. John, and some of the kids cried. They didn't want to leave. They scolded me."
The youngsters are eager to go outside to show their gardening projects.
"We recycle everything," Francis says. "The seeds are planted in the aluminum lunch trays."
Tiny Amir Ottley, at six years the youngest student, holds up a tin filled with sprouts he has planted.
"These are eggplants," he says. "I'm having fun and we went to the beach. I don't remember anything else."
The kids show off the tiny sprouts of tomatoes, okra, eggplant, and little red jumbie beads, under the watchful eye of Amanda Morrison, who wields an old-fashioned tin watering can. Morrison isn't quite old enough to be a counselor, but the 13-year-old All Saints student, with seven years at the academy under her belt, is in training now, Francis says.
He is adamant about parental involvement.
"Parents are encouraged to come along on field trips," Francis says. "We hold a parents' meeting before the program starts. It is mandatory. They can learn from the kids, too."
The academy, for which there is a waiting list, is a not-for-profit with occasional contributions from local benefactors through the Community Foundation of the V.I. Francis says the students hold bake sales to raise money for field trips.
"Everybody knows we have homemade cakes," he says. "We took in $400 on the last one for our St. John trip."
Tuition for the program, which runs from 8 a.m. to 5 p.m. Monday through Friday, with special weekend activities, is $450. It includes lunch and a snack.
Francis can be contacted at 774-3745 or 643-0420.