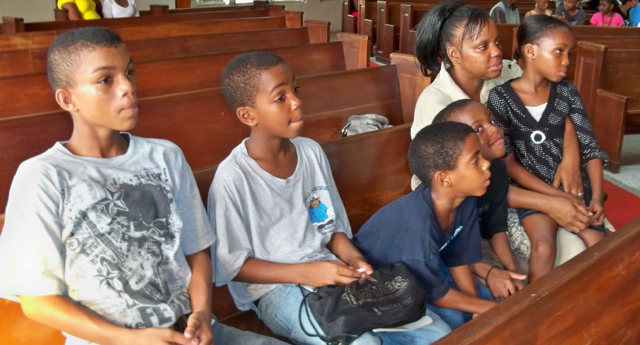 Almost 500 people – young and old, male and female – gathered at the Central Seventh-day Adventist Church in Grove Place Saturday to learn about gangs and how to work together as a community to root out criminal elements.
The main speaker was Lavelle Campbell, who has seen it all beginning as a school monitor, now the School Safety Manager of the St. Thomas/St. John District and a member of the Virgin Islands Anti-Gang Committee.
Berlina Wallace, spokesperson for the church, said gang violence is a community problem and everyone should join to be part of the solution. She said that July is youth month at the church and violence is a current crisis that needs to be addressed.
The audience appeared enthralled during the whole presentation that went over schedule. Campbell says he goes on longer when he sees a crowd as attentive as the church crowd.
He gave a graphic power point presentation on symbols, colors, graffiti, weapons, drugs, and hand signs of the Crips and Bloods, which he says are actually on St. Croix. The pictures of graffiti were familiar places to the students, like Elana Christian Junior High School and St. Croix Educational Complex. He also presented information on the Latin Kings, Haitian and Santo Domingo gangs.
"He knows what he is talking about and it appears true," said Guy Augustin, a parishioner. "I've seen the symbols around. He helped me with a lot of things I didn't know."
He told the audience if they see graffiti to read, record, remove and report it.
To begin to help resolve the crime problems Campbell said the attorney general needs to get together with the Legislature and get stiffer penalties on the books. The Department of Education needs to work with the Board of Education, he continued, and a number of other agencies need to work together for the U.S. Virgin Islands. He says the latest murders on St. Thomas affects all three islands.
He told of alternatives to give youth what they are looking for instead of joining gangs. He said to focus on them in a positive manner and give parental involvement.
"Martin Luther King would be turning over in his grave because we are killing each other," Campbell said.
Many community youth groups came to hear the presentation. Wallace said kids came from Grove Place Weed and Seed, Civil Air Patrol, American Red Cross Youth Volunteers and Inter Faith Unity Coalition.
Campbell showed the latest version of the informative documentary, Gangs in Paradise. The documentary will air on all local television stations at 8 p.m. Aug. 3. Following the documentary the audience got involved in a question and answer period.