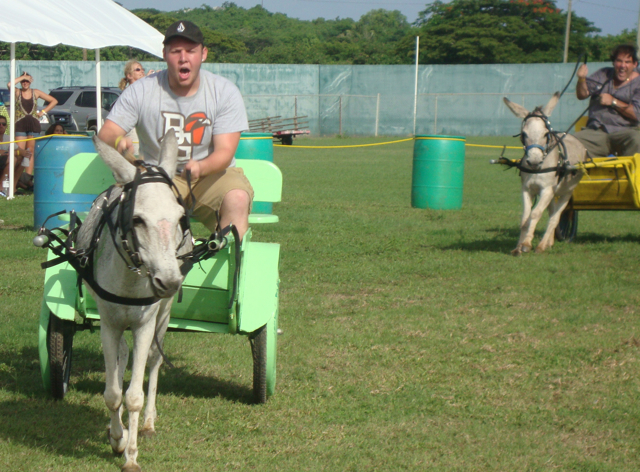 Several hundred people turned out for Saturday's Emancipation Day Donkey Races, but they weren't there to see racing, exactly. They were there for the donkeys, and for the mayhem unleashed when the beasts of burden put their legendary stubbornness on display.
Put a horse with a jockey on a racetrack and you pretty much know what's gong to happen — the horse will almost always run as fast as it can around the track. Put a donkey on a track with a novice passenger aboard and anything can happen, or nothing, but something usually does.
"The donkeys never go where you want them to go," laughed a spectator who gave her name as Mrs. Roebuck. "They never do what you want them to do."
Saturday's donkey races, sponsored for the fourth year by the Gentlemen of Jones, were originally scheduled for the beginning of July as part of the Emancipation Day activities, but had to be rescheduled because of heavy rain. Even though Saturday morning was marred by a heavy downpour, by the time the gates opened at 1 p.m. at Paul E. Joseph Stadium in Frederiksted the sun was out, the sky was blue and the donkeys were ornery.
In the first round of donkey cart races, Prithee Mehta won going away when the wheel on Joe Stropole's cart became jammed.
"It was awesome," said Mehta, who moved to St. Croix two months ago. "He was ready to run."
Stropole got his own back in stirring fashion in the second cart race. Cory Surber, on a five-week visit from Ohio, was way out in front and heading for home when Stropole's donkey suddenly caught fire and came charging up like the Light Brigade, nipping Surber at the wire — or what would have been the wire if the track weren't a casually laid-out ring of rope and barrels.
Stropole, of Frederiksted, said he had been talking to his donkey to get his attention.
"I told him if we won I'd bring him carrots," Stropole said.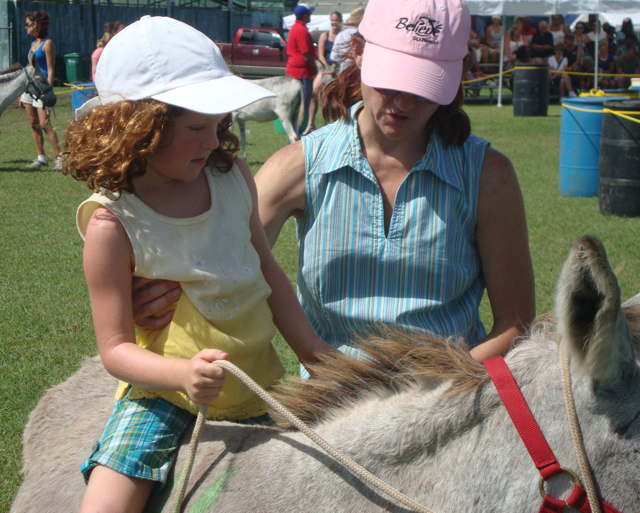 The day featured a full schedule of races of adults and children riding bareback, sometimes in the same race. In the "Lades, Ladies, Ladies" race, 7-year-old Josie Calhoun, riding "Mama" and accompanied by her actual mama, Shannon, outpaced a field of adults to win the race with only one tumble.
Two races featured riders age 12 and younger. Others incuded a relay with three-person teams and a "Collegiate" race in which riders represented their schools.
But mostly the day featured the donkey. The animals may not have wanted to be out in the sun, but in the end they pretty much always did exactly what they wanted — no matter what their riders might have preferred.