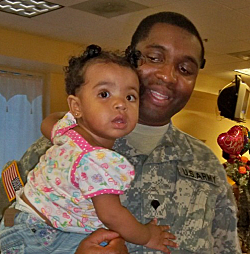 Nearly two dozen V.I. National Guard members from St. Croix and St. Thomas returned home safely to loved ones this week from a peacekeeping mission in Kosovo, in Eastern Europe.
Last August, when the 45 soldiers from the 661st Military Police Company were deployed to the volatile region, company commander Capt. Arthur S. Hector said he was committed to bringing everyone home safe.
"I made a commitment a year ago to bring each and everyone back to their families," said Hector. "The reality is they are home safe, thank God."
A welcome home party was held for troops and families on St Thomas at the Gramboko Building Thursday. On Friday, a party was held at the Henry E. Rohlsen Airport hosted by the VING Family Readiness Group for 20 attending soldiers.
There were close to 150 people welcoming back the soldiers in a reception room bedecked with red, white and blue mylar balloons. Some of the families wore yellow, lime green and pink T-shirts with names of soldiers and "661st MP CO" printed on them.
Little Alia Osborne, born 11 days after her father, Spc. Orville Osborne, deployed on Aug. 12, was on hand for the celebration. Osborne was all smiles as he held Alia in his arms.
"I am so happy to be holding her," Osborne said. His wife, Judith Osborne, said she went into labor early because of the stress and worry over her husband.
"It feels so good to have him home with us," Judith Osborne said.
Mavis Williams said she was very relieved her daughter, Sgt. Debra Davis, was home safe and sound. "I hope she never has to do active duty again," Williams, who was the caretaker of Davis' children, added. "Now I have my freedom back."
Davis said her children slept with her Thursday night. "All I can say is wow – it's wonderful to be home." Davis said.
Col. Elton Lewis, Assistant Adjutant General, said there were bad and good things that soldiers experienced, but he hoped they gathered more good as opposed to bad things.
He brought up the issue of suicides among returning troops and urged soldiers to seek help if need be.
"There are people here willing to talk if there are issues bothering you emotionally or financially," Lewis said. He told family members they are the best guardians and for them to come forward with any issues they might have.
Spc. Edward Schuster said he was glad to be home and was looking forward to making up for lost time and spending time with his five-year-old daughter. "I missed her so much," Schuster said. "It feels great to be home with her."
Four soldiers are on U.S. soil but not yet home, as they are in medical holding in Washington, D.C.