A Friday morning phone call from a "concerned citizen" led to police seizing a cache of weapons in the Savan area, the Virgin Islands Police Department reported.
At about 8:50 a.m. Friday, St. Thomas-St. John Police Chief Rodney F. Querrard Sr. received a call from a person who reported "suspicious activity" in the Savan area. The caller said someone appeared to be "hiding" something in an alley adjacent to Gamble Gade, in an area that was overgrown.
Two bike patrol officers and another from the Taxi Commission met Querrard and searched the area. One of the officers found a large black garbage bag that was laid out to blend in with the debris in the area. Forensics officers called to the scene determined the bag contained five firearms:
a .380 caliber Davis Industries P-380 pistol
a Smith and Wesson .38 caliber pistol
a Taurus 38 Special pistol
a Kel Tec 5.56 caliber automatic rifle
a 336 Winchester 30-30 caliber rifle.
More than 60 rounds of ammunition were also recovered with the firearms.
Police are now trying to identify who hid the firearms and ammunition in that area. A trace will be conducted on the serial numbers of these firearms to determine their origin and history, if they were ever registered here in the Virgin Islands or elsewhere, or were reported stolen by their owners.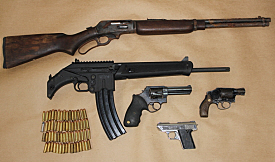 "I want to thank the concerned citizen for doing the right thing by notifying law enforcement about what they observed," Querrard said. "Without people like you making that call, these dangerous weapons would have still been accessible and would have more than likely been used to commit serious crimes, including murder.
"Because these five guns and the ammunition were seized guarantees they will never be used to commit a crime against anyone. The Virgin Islands Police Department is committed in ensuring that all calls like this one today will be followed up. When law enforcement works along with our community members, only good things can happen."
Querrard also thanked the responding officers for "their diligence in continuing the search, even after it first appeared to be fruitless. This dedication paid off with the seizure of these dangerous guns."
The chief urged anyone with information that would help identify the people responsible for hiding the guns in the area of Gamble Gade to call his office at 715-5548, or the anonymous tip service, Crime Stoppers USVI, at 1-800-222-8477.